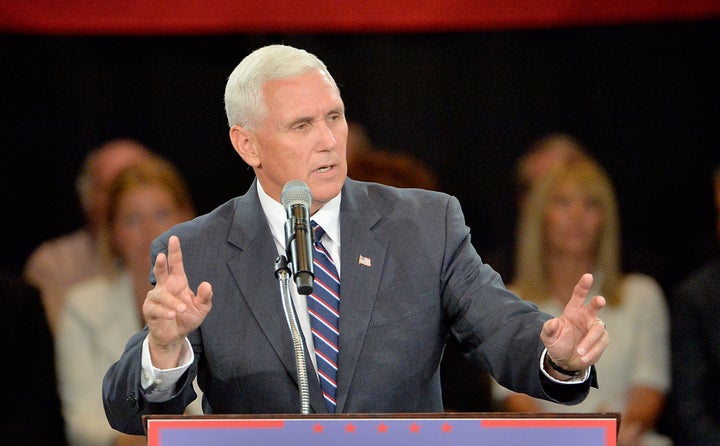 GOP presidential nominee Donald Trump wasn't trying to encourage Russia to hack Democratic presidential nominee Hillary Clinton's emails earlier this week, Trump's vice presidential pick Mike Pence said ― he was just trying to be like Abraham Lincoln.
Pence, the governor of Indiana, invoked the Civil War-era president on Friday while defending Trump's statement that he hoped Russian hackers have Clinton's emails.
"He's just simply saying, 'gosh, if they're out there somewhere, I would like to see them.' ... You know, Abraham Lincoln said, give the people the facts, and the republic will be saved," Pence told conservative radio host Hugh Hewitt. "I mean, I think that's the point that [Trump is] making. He's not encouraging some foreign power to compromise the security of this country."
Trump said on Wednesday that he hoped that Russia, which is suspected of hacking and leaking Democratic National Committee emails, would find the emails Clinton's legal team deleted from the private server she used as secretary of state.
"Russia, if you're listening, I hope you're able to find the 30,000 emails that are missing," he said.
Clinton's use of a private email server has been a common line of attack from Republicans. Her legal team deleted about 33,000 emails before handing over the rest to government officials, on the grounds that they were personal. The FBI was able to recreate some of them during its investigation into her email use ― an investigation that led to no criminal charges, but a rebuke from FBI Director James Comey that her State Department team was "extremely careless in their handling of very sensitive, highly classified information."  
Trump was widely criticized for his remarks on Russia, including by Republicans. He said the next day that he was being sarcastic, although he had made the comments not just in the press conference, but also on Twitter afterwards.
Pence seemed to take the issue more seriously, issuing a statement around the time of Trump's Wednesday press conference saying, "If it is Russia and they are interfering in our elections, I can assure you both parties and the United States government will ensure there are serious consequences."
He repeated that point to Hewitt on Friday.
"If it is found that Russia or China or any other foreign power compromised the private email, or captured classified information, and then released that information through the WikiLeaks release or otherwise, there'd be serious consequences for that," he said. 
Pence also defended Trump's comments, insisting that he was simply saying that the American people would like to see Clinton's emails.
"He's just making the kind of candid reflection that you know, the thing about Donald Trump that I've found so refreshing is that the man says what the majority of folks are thinking, and doesn't worry about, you know, what the media has to say about that," Pence said.
"But the bottom line is that the people deserve to know what's happening here," he added later, "and I think Donald Trump calling attention again to these emails this week was an important part of the narrative during the Democrat National Convention." 
Listen to the full interview:
Calling all HuffPost superfans!
Sign up for membership to become a founding member and help shape HuffPost's next chapter
BEFORE YOU GO
PHOTO GALLERY
Trump Has No Real Policies To Discuss, So How About These Funny Pics Of Him