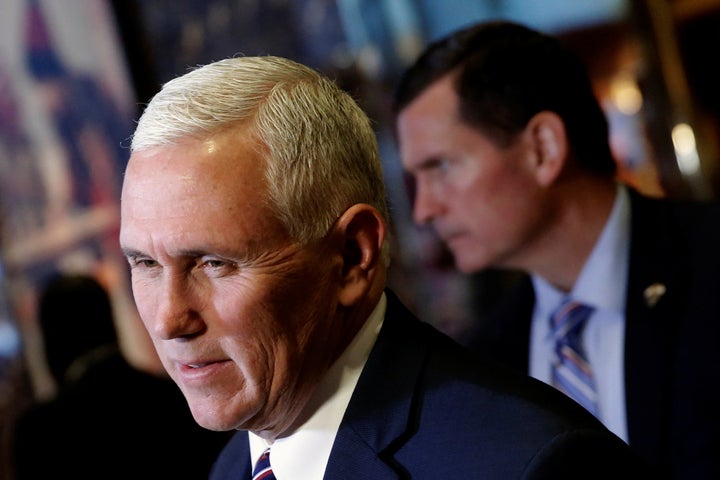 Vice President-elect Mike Pence says he was not offended by the statement directed at him from the cast of the Broadway hit "Hamilton" following the Friday night performance he attended.
"I really enjoyed watching Hamilton," Pence told host Chris Wallace during a pre-taped appearance on "Fox News Sunday." "It was a real joy to be there. I heard a few boos. I wasn't offended by what was said."
The hit show depicts the life of America's first treasury secretary, Alexander Hamilton, through hip-hop and traditional Broadway numbers. Following the performance, the actor Brandon V. Dixon, who plays America's third vice president, Aaron Burr, told the crowd that Pence was in the audience, thanked the Indiana governor for attending, and proceeded to implore the incoming 48th vice president to renounce his and his running mate's often divisive rhetoric. The statement was written by the cast with input from the show's creator, Lin-Manuel Miranda, and its producer, Jeffrey Seller, as reported by Broadway.com.
"We, sir — we — are the diverse America who are alarmed and anxious that your new administration will not protect us, our planet, our children, our parents, or defend us and uphold our inalienable rights," Dixon said. "We truly hope that this show has inspired you to uphold our American values and to work on behalf of all of us."
Social media footage and audience accounts of Pence's arrival in the theater back up the vice president-elect's recollection that there was a mixture of applause and boos as he took his seat in the Richard Rodgers Theatre.
Pence's reply stood in sharp contrast to the alarmed tweets President-elect Donald Trump fired off about the matter, which not only misrepresented the tenor of Dixon's remarks, but the audience's behavior, too.
"Our wonderful future V.P. Mike Pence was harassed last night at the theater by the cast of Hamilton, cameras blazing," Trump tweeted early Saturday morning. "This should not happen!"
"The Theater must always be a safe and special place," the president-elect tweeted in another post. "The cast of Hamilton was very rude last night to a very good man, Mike Pence. Apologize!"
Trump renewed his attacks against the audience and cast members Saturday night, tweeting, then deleting, then reposting his displeasure with the incident and criticizing the show, which has received near-universal acclaim from critics. "The cast and producers of Hamilton, which I hear is highly overrated, should immediately apologize to Mike Pence for their terrible behavior," Trump tweeted.
The "controversy" erupted at just the right time for Trump, who had suffered a major political setback on Friday when it was announced that he would pay out $25 million in a settlement of a group of civil lawsuits brought against him regarding his now-defunct Trump University. Trump had previously dismissed the lawsuits' merits and vowed to never settle out of court.
Popular in the Community