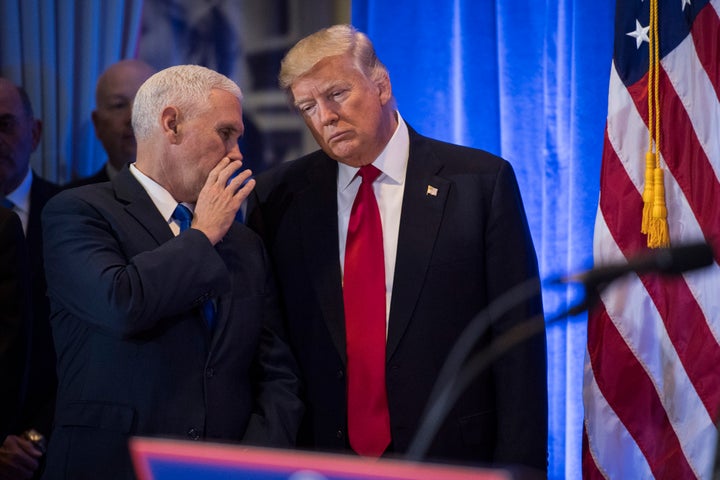 Vice President-elect Mike Pence denied Sunday that there was any contact between President-elect Donald Trump's associates and Russian operatives regarding the hacking of the Democratic National Committee during the 2016 campaign.
"Of course not," Pence replied to host Chris Wallace's question on "Fox News Sunday," after avoiding the question twice. "Why would there be any contacts between the campaign?"
"This is all a distraction," he added, "and it's all part of a narrative to delegitimize the election and to question the legitimacy of his presidency. The American people see right through it."
Earlier in the interview, Pence said the campaign was focused on things other than Russia.
"All the contact by the Trump campaign and associates was with the American people. We were fully engaged with taking his message to 'Make America Great Again' all across this country," he said.
During his first press conference since winning the election, Trump ignored a question from a reporter last week asking if there had been any contact between his team and Russia. Instead he said that Russia will have "much greater respect for our country" once he takes office.
Pence also addressed Trump's comments that the intelligence community is attempting to undermine him and that the release of a dossier obtained by intelligence agencies is reminiscent of Nazi Germany.
"The very fact that a few organizations, not this one, trafficked in opposition research and this salacious garbage, I think was deeply troubling to millions of Americans," Pence said.  
Pence was also asked about Trump's suggestions that he would lift sanctions against Russia, calling America's "terrible relationship" with the Kremlin "a failure of American diplomacy in successive administrations."
"What the President-elect is determined to do is explore the possibility of better relations," Pence said. "We have a common enemy in ISIS, and the ability to work with Russia to confront, hunt down, and destroy ISIS at its source. It represents an enormously important priority of this incoming administration."
"What you're hearing in his reflections ― whether it be with Russia, whether it be with China, whether it be with other countries in the world ― is that we are going to re-engage," Pence added. "We are going to put America first. We're going to put America's interest first, but we're going to re-engage in a way that advances America's interests in the world and advances peace."
This post has been updated with more detail from Pence's comments.
REAL LIFE. REAL NEWS. REAL VOICES.
Help us tell more of the stories that matter from voices that too often remain unheard.
BEFORE YOU GO
PHOTO GALLERY
Donald Trump