Following one of the most bitterly fought special elections in recent memory, Democrat Doug Jones was formally sworn in as Alabama's newest U.S. senator Wednesday.
For now, a lot of chatter is focused on this photograph of Doug Jones' openly gay son, Carson Jones, at his father's side during Wednesday's ceremony.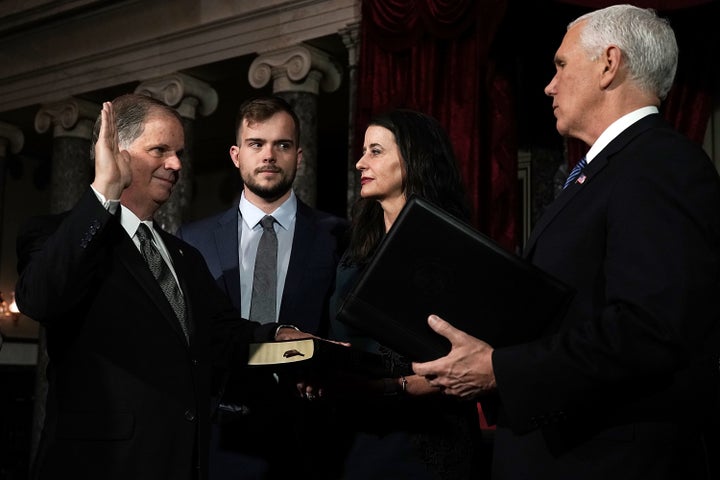 The photo is, of course, just one of many that were shot at the ceremony. While it's impossible to know what Carson was really thinking at the time, the image appears to capture him giving Pence a contemptuous look.
Carson, who works as a zookeeper in Colorado, stoked the flames of internet speculation himself when he posted the photo to his own Instagram account late Wednesday, accompanied with the hashtag #nocaptionneeded.
Though it's not visible in the picture, Carson also donned a rainbow flower boutonniere given to him by LGBTQ advocacy group DCHomos for the occasion.
After his father's Dec. 12 victory, Carson confirmed to The Advocate that he identifies as gay. The interview followed a flurry of blog posts declaring him Sen. Jones' "sexy son" and a "hottie zookeeper" alongside shirtless vacation photos and gym selfies culled from his Instagram account.
"I am obviously thrilled with my dad's victory," the 22-year-old, who came out to his parents in 2015, said at the time. "We have been overwhelmed by the support of so many people that made this happen. Alabama made a really big statement that unity wins out. I couldn't be prouder of him or my home state!"