WASHINGTON ― Indiana Gov. Mike Pence (R) and Sen. Tim Kaine (D-Va.) were asked about law enforcement and race relations during the vice presidential debate on Tuesday.
Kaine, who is sharing a ticket with Hillary Clinton, said the way to create better relationships between cops and communities is through community policing.
"The way you make police safer is through community policing," he said, emphasizing that a stronger bond needs to be built between communities and law enforcement. "When that gap narrows, it is safer for communities and for the police. That model works across our country."
He then turned his attention to the "tough-on-crime," "law and order" policies of Republican presidential nominee Donald Trump.
"Donald Trump recently said we need to do more stop and frisk around the country. That would be a big mistake because it polarizes the relationship between the police and the community," Kaine said.
Trump claimed during the first presidential debate that stop and frisk "brought crime way down" in New York, which isn't true. Stop and frisk was struck down in 2013 by a federal judge who called the policy a "demeaning and humiliating experience" for people of color and a "policy of indirect racial profiling.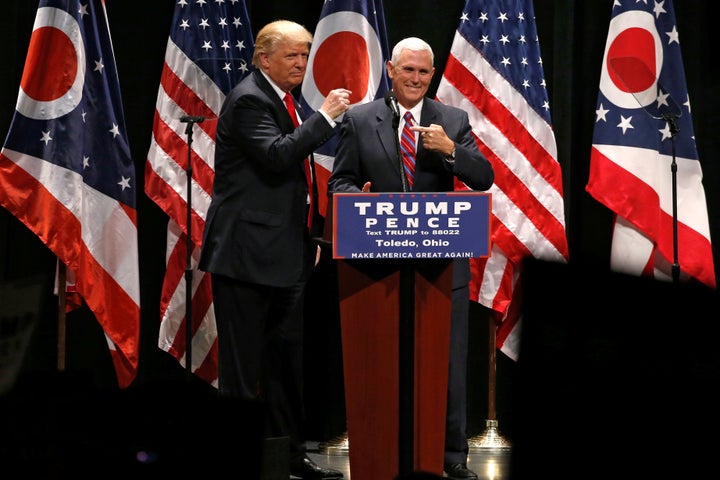 Pence claimed he and Trump want to "make sure law enforcement has the resources and tools to be able to really restore law and order, and for the cities and communities in this nation."
Pence then pointed to Brentley Vinson, the black police officer in Charlotte, North Carolina, who shot and killed 43-year-old Keith Scott on Sept. 20. To Pence, that incident is an example of why implicit bias shouldn't be discussed since, apparently, black cops can't be anti-black (which isn't true).
"We mourn with those who mourn, we grieve with those who grieve and we are saddened at the loss of life," Pence said. "Hillary Clinton referred to that moment as an actual example of implicit bias in the police force."
"Enough of this seeking every opportunity to demean law enforcement probably by making accusation of implicit bias every time tragedy occurs," he said.
Calling all HuffPost superfans!
Sign up for membership to become a founding member and help shape HuffPost's next chapter
BEFORE YOU GO
PHOTO GALLERY
Trump And Clinton Face Off In First Debate But Whose Face Won?