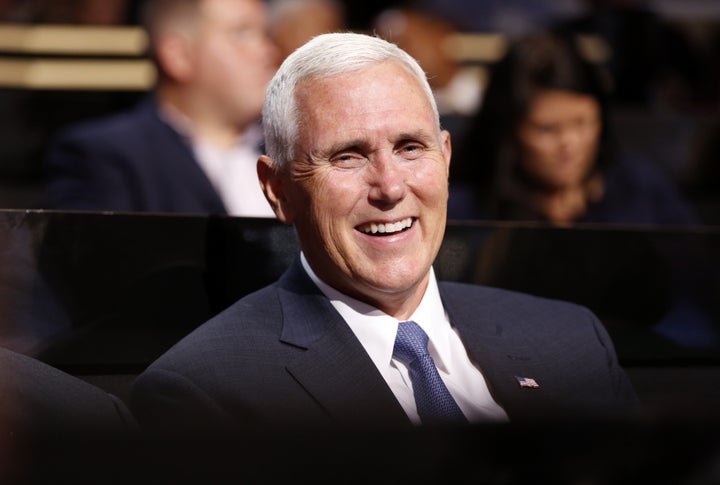 Indiana Gov. Mike Pence, who presumptive Republican presidential nominee Donald Trump has tapped as a running mate, revealed a misguided view of history while serving on the House International Relations Committee.
During an interview with C-SPAN on April 2, 2003 ― just weeks after the Iraq War began ― Pence said he was studying Josef Stalin's battle against the Nazis to gain insight about how to defeat dictator Saddam Hussein in Baghdad.
Pence, who supported invading Iraq, said he was reading three books on the Battle of Stalingrad between the Nazis and the Soviets. The bloody, months-long clash, which resulted in the Soviets' repulsion of the Nazis from the Russian city in February 1943, is believed to be a watershed moment in the efforts of the Allied powers to defeat the Nazis.
"I think there are, at least being contemplated, great potential parallels between whatever confrontation may await us in Baghdad and that famed battle of 1942," Pence said. 
"Studying how Stalin enticed Hitler into decimating that city and truly overextending his military is to begin to understand something of the mindset of Saddam Hussein, who clearly had idealized and modeled his whole career after Josef Stalin's," he added. "As we deal with those issues in the International Relations Committee, I hope to be able to bring some of that historical reflection to the dialogue." 
As subsequent events attest, this analysis missed the mark. When U.S. troops took over most of Baghdad on April 11, 2003 ― mere days after Pence's remarks ― they faced little resistance from the Iraqi army under Hussein's direction. American soldiers found and caught Hussein in December of that year.
The U.S. military would instead face years of entrenched guerrilla attacks from both Sunni insurgent groups that included elements of the disbanded Iraqi army and Shiite militants backed by Iran. There is no evidence that the insurgency was directed or even conceived by Hussein in advance.
But comparing Hussein to Stalin would have been bizarre even before the Iraqi dictator's death. 
"It just shows [Pence] has very little understanding of military history or waging wars," said Lawrence Korb, a former assistant secretary of defense in the Reagan administration who is currently a military expert at the liberal Center for American Progress Action Fund.
Stalin, unlike Hussein, led one of the largest militaries the world had ever seen, and was facing off against a state actor of similar strength in Nazi Germany.
"If you look at the first Gulf War about how quickly we overwhelmed Saddam's forces, it was clear it would not be like the Battle of Stalingrad and that the Iraqi people basically did not like Saddam," Korb said.
However, Korb noted that Pence's instinct to err on the side of overestimating Hussein's strength was preferable to the excessive optimism exhibited by other policymakers at the time.
"It is always better to be cautious than it is to assume it is going to go very, very quickly," he concluded. "Always assume the worst-case analysis."
Calling all HuffPost superfans!
Sign up for membership to become a founding member and help shape HuffPost's next chapter
BEFORE YOU GO