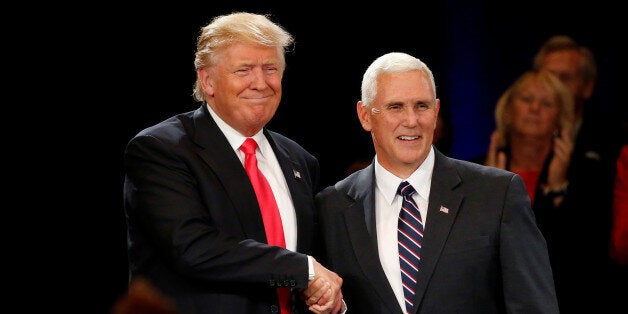 Donald Trump does not have a political record. The fleeting glimpses we are offered into his own policies are further muddied by his own ideological inconsistencies and unpredictable temperament. A better lens, then, into his policies may be through the company he keeps. In terms of policy, understanding, and regard for public health -- Mike Pence is by all counts an unmitigated disaster.
Pence's public record reveals a misunderstanding of basic science. The field of public health is dedicated to identifying and minimizing risk factors that negatively impact human health. Perhaps the most basic and fundamental example of this is the impact of smoking. The Centers for Disease Control have stated that smoking is the number one preventable cause of death in the United States, responsible for nearly half-a-million deaths annually. While the data couldn't be more clear, Pence penned an op-ed in 2001 refuting basic medical science at a time when tobacco products were being considered for regulation by the FDA. He wrote, "Time for a quick reality check. Despite the hysteria from the political class and the media -- smoking does not kill." Pence has no excuse -- the link between smoking and health has long been considered doctrine in the United States since the landmark Surgeon General report in 1964.
But the effects of this policy went further. One particular clinic, in rural Scott County, was closed in 2013, leaving the county without an HIV testing center. Less than two years later, the county became the center of an HIV epidemic affecting nearly 200 residents of Austin, Indiana, a town of 4,300, and leading to the highest incidence of new HIV infections in the country. Testing is not the only intervention to prevent HIV transmission, there's also strong evidence for providing clean needles via needle exchange programs. But until this crisis in his own backyard, Pence had been a lifelong, vocal opponent of needle exchange programs.
Perhaps most controversial of all, in early 2015 Governor Pence signed into law the Religious Freedom Restoration Act which effectively allows business owners to cite their religious beliefs as right to refuse services to members of the LGBTQ community. Discrimination, especially the state-sponsored type like this, can have serious public health consequences. Discriminatory practices and social stigma in the LGBTQ community have led to significant health disparities and to higher rates of depression, substance abuse, and suicide. While prudent public health policy would work towards lowering barriers of access to care, this legislation -- to use the campaign mantra -- does no more than build walls. Worse, it allows for and even may encourage further stigma.
Public health should be a non-partisan issue. The public's health is a universally desirable good -- it is needed for each individual to reach their furthest potential, just as it is needed to reach our collective potential as a nation. It is the explicit role of our public servants to champion the rights and health of the most vulnerable communities, not to further marginalize them. Mike Pence's track record on health as told through his policies on tobacco, women's health and LGBTQ rights has been outright harmful, and should lead us to question him and his running mate's eligibility for public office, let alone our highest office.
Calling all HuffPost superfans!
Sign up for membership to become a founding member and help shape HuffPost's next chapter