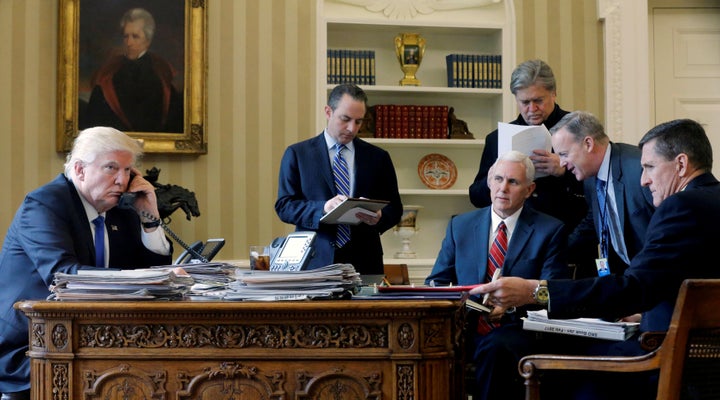 WASHINGTON ― With Michael Flynn's guilty plea bringing fresh attention to what Vice President Mike Pence knew about possible Russian collusion and when he knew it, Pence's office has a ready answer: Not much and really late.
So far Pence has remained at the periphery of special counsel Robert Mueller's Russia investigation.
He's repeatedly toed the Trumpian line that any suggestion of collusion between the campaign and the Russians was nonsense. But he's also pointed out that he wasn't chosen as Donald Trump's running mate until after the campaign started making contact with Russian officials. And he's been careful to couch his own remarks about Russia with phrases like "I'm not aware" and "the president has made it very clear."
Now, Flynn's guilty plea to a single count of lying to the FBI regarding his contacts with Russian officials moves Pence closer to the spotlight.
When Flynn, Trump's original national security adviser and longtime campaign aide, was fired just three weeks after the president took office, the purported reason was that Flynn had lied to Pence about his contacts with Russia during the transition ― a transition led by Pence himself.
A White House official who spoke on the condition of anonymity said Pence felt "vindicated" by Flynn's guilty plea as proof that Flynn had lied not only to Pence, but to federal authorities as well.
That latest distancing remark follows a statement from Pence last month, after revelations that the president's son, Donald Trump Jr., had worked with WikiLeaks to publicize stolen emails to hurt Democratic nominee Hillary Clinton. U.S. intelligence has long considered WikiLeaks a virtual arm of Russian intelligence; an official January report specifically named the organization in finding that Russia had acted to help Trump win last year's presidential election.
In October of last year, Pence was asked if the Trump campaign had been working with WikiLeaks, and he denied it. On Nov. 13 of this year, the day that Trump Jr.'s cooperation with WikiLeaks founder Julian Assange was reported, Pence's office released this statement: "The vice president was never aware of anyone associated with the campaign being in contact with WikiLeaks. He first learned of this news from a published report earlier tonight."
Those statements, though, will not be the end of the matter for Pence. His lawyer reportedly met with Mueller's team this summer. And on Friday, the ranking Democrat on the Senate Judiciary Committee asked Pence for information and documents pertaining to Flynn's dealings with a number of foreign entities during the transition, including a scheme to kidnap and deliver a dissident cleric living in Pennsylvania to the government of Turkey.
"Who on the Trump transition team was aware of Mr. Flynn's relationship with the following entities," wrote Connecticut Sen. Richard Blumenthal, who then named Russia, Turkey, China and two lobbying firms.
Flynn had a long career in military intelligence before he was fired by then-President Barack Obama from his job running the Defense Intelligence Agency. The retired Army general became one of Trump's earliest high-profile supporters, earning a starring role at the Republican National Convention last summer where he encouraged chants of "lock her up" regarding Clinton.
President Trump hired Flynn as his top national security aide even though he had reportedly been warned against it by both Obama and Trump's original transition chief, New Jersey Gov. Chris Christie.
Curiously, it was Flynn's lying to Pence about conversations with then-Russian Ambassador Sergey Kislyak that was offered as the reason for Flynn's firing, not the conversations themselves. Kislyak and Flynn talked about new sanctions that Obama had imposed on Russia for interfering in the presidential election. According to a document filed in the special counsel's case on Friday, Flynn contacted transition team officials at Trump's Palm Beach resort, Mar-a-Lago, on Dec. 29-31 to inform them of his conversations with Kislyak ― days on which Pence, who was still governor of Indiana, was in Indianapolis.
"Mike Flynn is a fine person, and I asked for his resignation. He respectfully gave it. He is a man who ― there was a certain amount of information given to Vice President Pence, who is with us today. And I was not happy with the way that information was given," Trump said at a Feb. 16 news conference. "He didn't have to do that, because what he did wasn't wrong ― what he did in terms of the information he saw."
The FBI interviewed Flynn about those conversations with Kislyak just four days after Trump took office, and the White House was warned about them on Jan. 26, when Acting Attorney General Sally Yates went to the Oval Office.
Trump fired her days later. The stated reason was her refusal to defend his travel ban against several majority-Muslim nations in court.
Popular in the Community