Vice President Mike Pence twisted a statistic on Tuesday on terrorists apprehended at the southwest border as the administration drums up fear over migrants headed toward the U.S.
Pence made the remarks at a Washington Post event while defending President Donald Trump's claim that "Middle Easterners" were part of a caravan of thousands traveling toward the southwest border.
The administration has offered no evidence that this is true. Even if it was, being from the Middle East doesn't mean someone is a terrorist, or even an illegitimate asylum-seeker.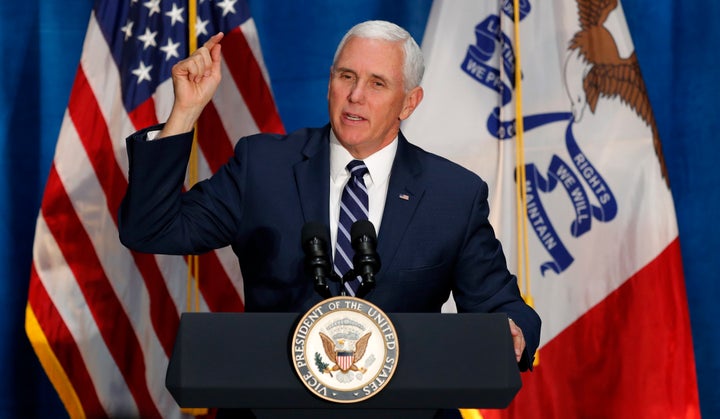 But the White House isn't abandoning the bogeyman as it presses for more powers to turn away asylum-seekers it claims are illegitimate, lock up families long term and quickly deport children.
Pence said it was "inconceivable that there are not people of Middle Eastern descent in a crowd of more than 7,000 people advancing toward our border" and that there were statistics to back up Trump's claim.
The only statistic he cited was about terrorists ― and it was wrong.
"In the last fiscal year we apprehended more than 10 terrorists or suspected terrorists per day at our southern border from countries that are referred to in the lexicon as 'other than Mexico' ― that means from the Middle East region," Pence said.
That's an entirely misleading account of a statistic the administration cites frequently, referring to how many known or suspected terrorists are stopped from coming to the U.S. each day by all avenues ― often by preventing air travel. It does not refer solely to border apprehensions. Pence's statement that "other than Mexico" refers to people from the Middle East is also bogus ― it refers to every country other than Mexico.
A senior administration official told reporters later Tuesday that Pence was referring to "the fact that we see 10 known or suspected terrorists attempting to enter the country every day."
"The vice president has cited that statistic previously in his remarks and has used that in a number of different speeches, and he was referring to that," the official said.
The official declined to be quoted by name.
Pence's office acknowledged the statistic he cited was not only about people apprehended at the border but also suggested individuals with ties to extremism were likely among the caravan. Alyssa Farah, press secretary for Pence, said he was referring to the "on average 10 suspected terrorists a day attempting to enter the country illegally" in 2017.
"And those are just the ones that we catch," she said in an email. "It's inconceivable that this caravan ― which is being broadcast around the globe ― hasn't already been infiltrated by individuals with ties to extremism. This is not complicated: this is an affront to our sovereignty, an exploitation of our laws and generosity, and those who seek to normalize or sugar-coat this tactic do so risking national security and sovereignty."
The administration has previously detailed the 2,554 people on the terrorist watchlist it stopped from coming to the U.S. in the 2017 fiscal year, which works out to about seven people per day. A vast majority ― 2,170 people ― were attempting to come to the U.S. by air, while 335 were trying to come by land and 49 by sea.
This story was updated with comments from Pence's office.
Before You Go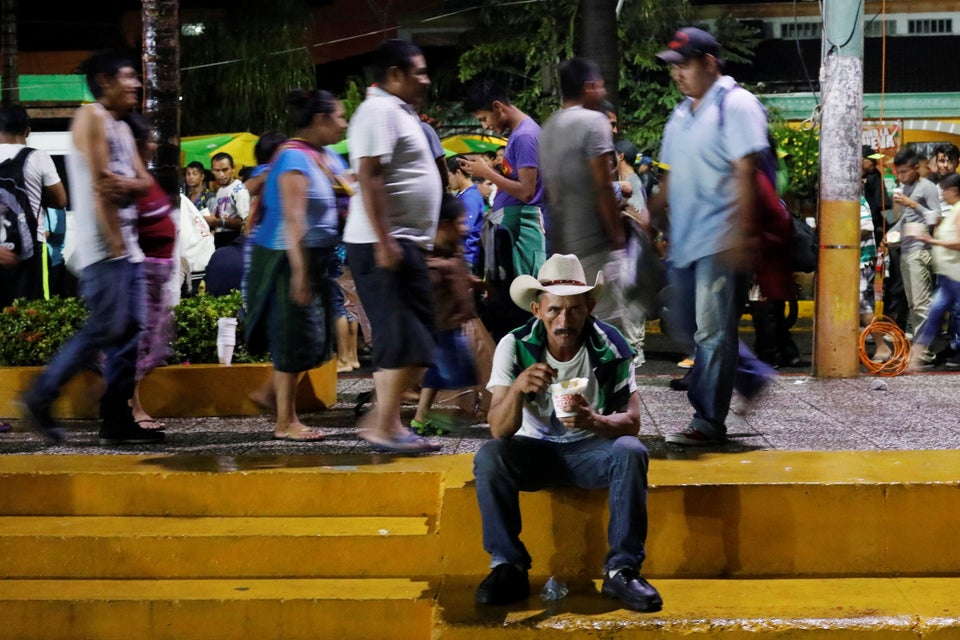 Migrant Caravan Moves Toward The U.S.
Popular in the Community