After he arrived back in Indiana after being chosen as Donald Trump's running mate, Indiana Governor Mike Pence gave thanks "to the best governor staff in the United States of America" and "my great Lieutenant Governor Eric Holcomb".
Mike Pence has accepted the resignations of quite a few staff members and appointees during his three years as Governor, some as early as the first month of his term in January 2013. How many? I stopped counting, but safe to say it may out-number the times he and Indiana Attorney General Greg Zoeller have filed suit against the Federal Government for either the ACA or defending marriage (and Zoeller holds the record for suits and losses). But I digress.
Pence took office January 2013. State Auditor Tim Berry resigned in August of 2013 when Pence recommended him for chair of Indiana Republican Party, Pence appointed Dwayne Sawyer. Sawyer then resigned in November 2013 after serving less than four months.
In the November 2012 elections, Glenda Ritz, Democrat, not only upset incumbent Tony Bennett for Superintendent of Education, she had more votes than Pence. Bennett nor Pence were happy. In a July 9 2014 report, Inspector General David Thomas found Bennett violated State law in Bennet's re-election campaign. Oh and Thomas also announced he was leaving the position he had held for decades since it was created.
Pence Chief of Staff Bill Smith, who was with Pence during his entire Congressional term from 2000-2012, resigned in early 2014 to start a new firm.
Deputy Chief of Staff Merilee Springer, with Pence since 2013, resigned in June 2014.
Pence loves to pontificate on the health of Hoosiers. His January 2013 appointments of Dr. William Van Ness as State Health Commissioner, and Debra Minott as head of Family and Social Services lasted just over a year. Van Ness resigned in Aug of 2014 for personal reasons. Minott left with no explanation -- also in the summer of 2014.
August was a bad month, as Indiana State Treasurer Richard Mourdock announced on a Friday afternoon August 29, 2014, that he would resign from his post, effective at the end of the business day.
Then there was his communications Director Christy Denault, who was with Pence since his gubernatorial campaign began in 2012. She resigned in April 2015 after the horrid RFRA debacle. In her resignation letter she cited time to devote energy to her family.
I applaud David Fagan, (a Region Rat) who resigned as Port of Indiana commissioner due to Pence supporting repeal of Common Construction Wage in 2015
And then there is Sue Ellesperman who resigned as Lieutenant Governor resigned this past February. The incumbent Lieutenant Governor resigned. That's unheard of in Indiana history, unless it is death or emergency issue (although writing this, I can see being tied to Pence IS an emergency).
As the Trump team adds staffers for Mike Pence, it's not as if this "great team" has been a cohesive unit for some time
Which brings me to my last point, the "Region". The Region, of which I am a proud Region Rat, is the colorful melting pot of Northwest Indiana (the Calumet Region) including communities of Lake and Porter counties. (Rat would be the Millrats who help pay for the rest of Indiana). When we see Governor or candidate we are reminded it's an election year.
On 219 day, a holiday in The Region named for the area code, our soon to be ex-Governor tweeted this: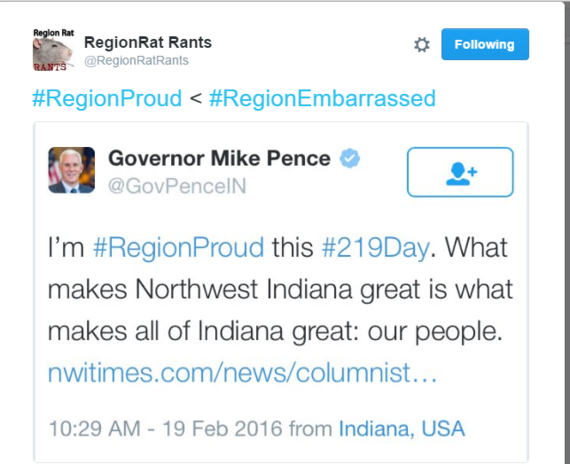 But after the TP ticket, this happened.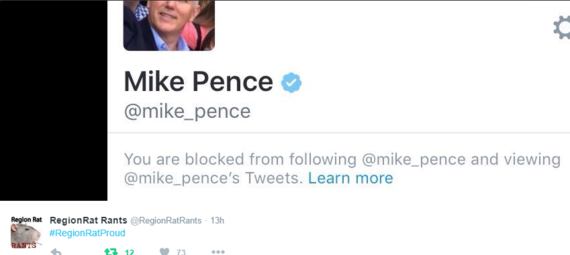 Which may not be a bad thing.
While we Hoosiers cried "Pence Must Go!" for years, we didn't mean to Washington.
Calling all HuffPost superfans!
Sign up for membership to become a founding member and help shape HuffPost's next chapter