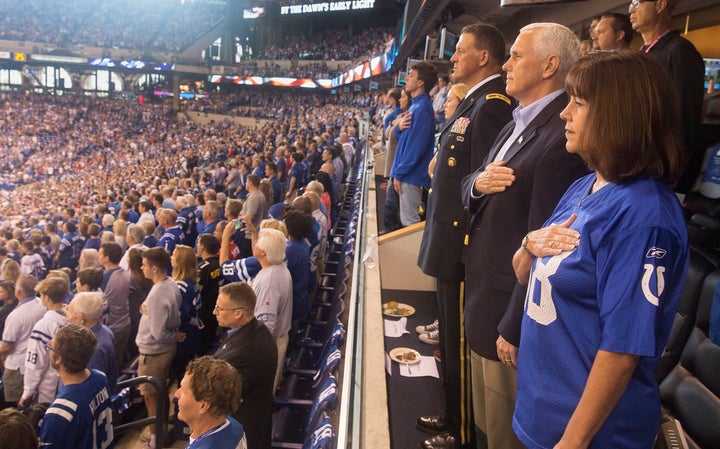 A planned political stunt by Vice President Mike Pence, in which he walked out of an NFL game in protest of players kneeling during the national anthem, cost the Indianapolis Metropolitan Police Department more than $14,000, new records show.
During an October game between the Indianapolis Colts and San Francisco 49ers, Pence made a show to leave the stadium after he saw players kneel for "The Star-Spangled Banner," later tweeting that he "will not dignify any event that disrespects our soldiers, our Flag, or our National Anthem."
The protests by multiple NFL teams and players were first started by former 49ers quarterback Colin Kaepernick in response to police brutality and racial injustice against people of color, primarily black Americans.
Many believed Pence leaving the stadium was a premeditated stunt orchestrated by the White House, costing taxpayers thousands of dollars. That belief was confirmed when President Donald Trump tweeted that he had told Pence to leave once players knelt.
Journalists covering Pence at the time were not allowed in the stadium, told instead to stay in the vans and informed by a staffer that "there may be an early departure from the game," according to CNN.
Estimates of how much taxpayers spent for the political points were upwards of $88,000, primarily from air travel aboard Air Force 2. But documents obtained by Citizens for Responsibility and Ethics in Washington show the IMPD spent an additional $14,163 in security costs for the vice president.
The police department spending included multiple teams on the force working traffic and security, as well as overtime costs.
"The tone is set at the top when it comes to this administration's disregard for ethics," CREW Executive Director Noah Bookbinder said in a statement provided to HuffPost. "Vice President Pence should know better than to use taxpayer money to make a rhetorical point, but carelessness with taxpayer money seems to be a common theme with senior administration officials."
CORRECTION: A previous version of this story misstated the name of the Indianapolis Metropolitan Police Department as the Indiana Metropolitan Police Department.
Popular in the Community