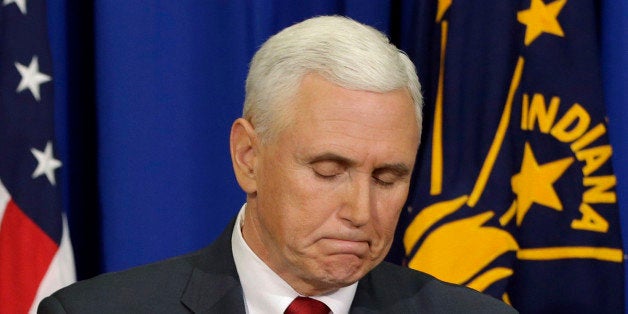 WASHINGTON -- Indiana Gov. Mike Pence (R) has seen a significant drop in his approval rating since signing a widely criticized "religious freedom" law, with one longtime political observer in the state saying the fall is historic for a governor.
"I've been covering Indiana politics for three decades, and I don't recall a sitting governor experiencing that kind of decline over this short period of time like we've seen here," said Brian Howey, publisher of the widely respected site Howey Politics Indiana.
A new HPI poll by pollster Christine Matthews of Bellwether Research shows Pence's favorable rating at just 35 percent, and his unfavorable rating at 38 percent.
In 2013, an HPI poll found Pence faring much better than he is now. Then, he was at a 52 percent favorable rating and a 20 percent unfavorable rating.
Fifty-nine percent of respondents in the new poll said the "religious freedom" law was unnecessary, compared to just 30 percent who thought it was needed. Another 50 percent said the controversy surrounding the law will have a "negative impact on the economy" even after it "isn't front page news."
"In the 20 years that HPI has been publishing, and in the polling HPI has conducted since 2008, an Indiana governor has never experienced this kind of survey decline in this short time frame," Howey wrote in his newsletter Thursday.
Howey also pointed to more recent polls -- done by other firms using slightly different question wording -- that similarly showed Pence enjoyed a higher rating before RFRA. A Public Opinion Strategies Poll in February, conducted on behalf of the Indiana Realtors, put Pence at 62 percent, as did a Ball State University poll conducted by Princeton Survey Research.
This week, the Human Rights Campaign released a poll by Greenberg Quinlan Rosner Research also finding Pence in hot water, with 53 percent of Indiana voters saying his signing of the bill made them feel unfavorable toward the governor; only 38 percent felt favorable.
"This poll confirms there has been damage -- quite a lot -- from the Religious Freedom Restoration Act," said Matthews in an HPI column Thursday, regarding her new survey. "However, even before RFRA, Pence began to have trouble with women voters due to the public tussles with Superintendent of Public Instruction Glenda Ritz. The governor now has an image that is seriously polarized by ideology, religiosity, and gender."
Late last month, Pence signed RFRA, which would have allowed any individual or corporation to cite its religious beliefs as a defense when sued by a private party. Many opponents of the bill pointed out that because the legislation's language was so broad, it would have opened the door to widespread discrimination against LGBT individuals.
After significant backlash both nationally and within Indiana, Pence eventually supported a revised version of the measure that made clear RFRA could not be used by businesses to discriminate on the basis of sexual orientation and gender identity.
"For us, the most important data point in this poll is that a majority of Hoosiers support adding language to our civil rights laws that would protect based on sexual orientation and gender identity," said Jennifer Wagner, spokeswoman for the pro-LGBT group Freedom Indiana.
"Before the RFRA debacle, most Hoosiers probably didn't realize you could be fired or turned away from public accommodation for being gay or transgender. Now they not only realize it, but they want it changed," she added. "That support lays the groundwork for our campaign moving forward this year and into the 2016 legislative session."
There is already talk that Pence may be more vulnerable when he's up for re-election in 2016. On Thursday, Bill Oesterle, the CEO of Indianapolis-based Angie's List, announced he was stepping down to get involved in politics. Oesterle, formerly a Republican operative, is a strong supporter of equality for LGBT individuals and took a leading role in speaking out against RFRA.
Oesterle said he is not yet sure what his political plans are, but he did not close the door to challenging Pence in a GOP primary.
Democrats are also looking to recruit a strong candidate to go up against Pence, with state House Minority Leader Scott Pelath (D), former Indianapolis mayor and current Eli Lilly executive Bart Peterson and former Indiana House Speaker John Gregg (D) all being mentioned.
Indiana has also hired a global public relations firm to help repair the state's image after the RFRA controversy.
Want more updates from Amanda? Sign up for her newsletter, Piping Hot Truth.
Before You Go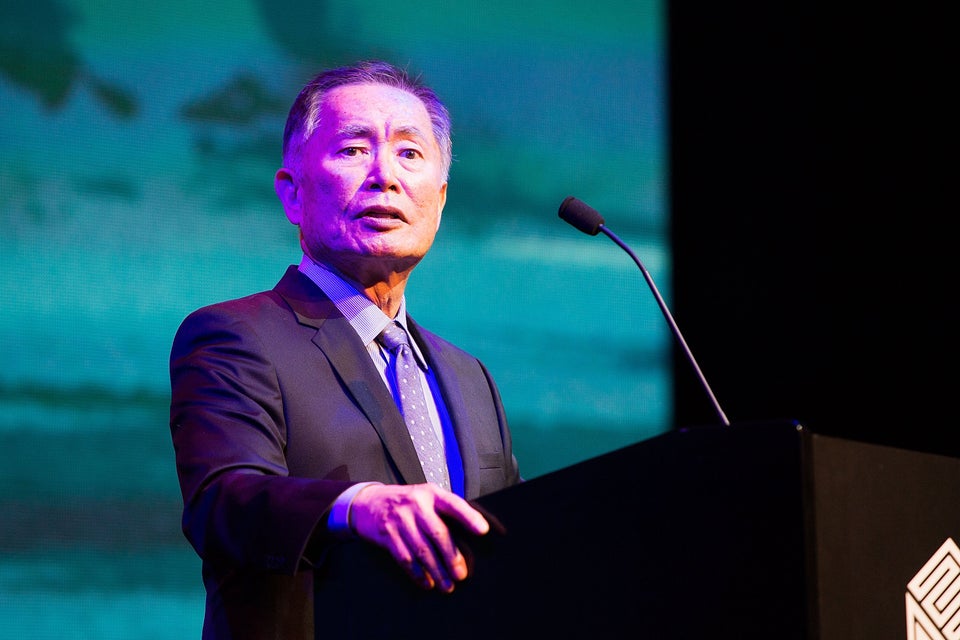 Reactions To Indiana's 'Religious Freedom' Law
Popular in the Community