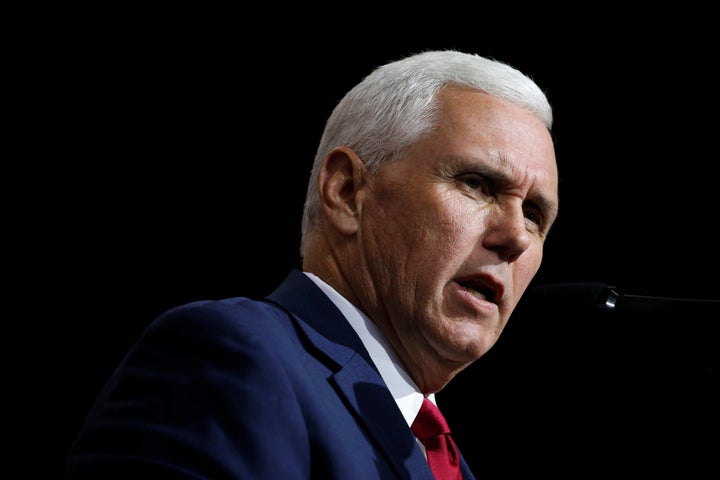 Pence's traveling press pool — the rotating group of reporters and photographers who are tasked with following the Republican vice presidential candidate for the larger press corps — were "removed" from Tony Packo's Cafe in Toledo, Ohio, after the first stories about the video hit the internet.
The Pence campaign had promised the pool that it could cover Pence's departure from the restaurant, which would include Pence "looking at Trump's signed hot-dog bun."
"As far as we know," Pence himself wasn't aware of the stories as they broke, reported Vaughn Hillyard, the NBC News reporter on print pool duty.
The Washington Post first reported on the video of Trump's making degrading comments toward woman with "Access Hollywood" host and "Today" show co-host Billy Bush.
In the video's audio, Trump claims he tried to have sex with a married woman and says he can grab women "by the pussy" because he is a celebrity. The bombshell clip immediately ricocheted through social media and was played on cable news networks.
In a note to reporters, Hillyard described the press pool being removed as the story broke.
The pool shot video of Pence and his daughter, Charlotte, ordering food and greeting patrons of Tony Packo's. He then sat down briefly at a table to say hi to others before heading to the back of the restaurant for an interview with the newspaper, the Toledo Blade. During this time, the pool was waiting at the front of the restaurant. After about 20 minutes, it was then led halfway back into the restaurant by a Pence staffer in preparation for shooting Pence's departure and, notably, his viewing of the Trump-signed hot dog bun, which the staffer specifically told the pool it would shoot. The Pence staffer, after leading the pool further into the restaurant, appeared to grow suspicious of the pool, which had been looking down at its phones and chatting. The pool did not address the Trump stories at all, but the staffer then left the pool to head to the back of the restaurant, where Pence and other aides were. Upon returning, the staffer said the pool needed to leave, specifically saying Pence would no longer be going to view the signed bun and, instead, would go directly to his campaign bus.
A staffer suggested the move wasn't out of the ordinary for such campaign pit stops. But Hillyard wrote that just hours earlier, Pence's staffers had been allowing normal access to the candidate, with pool reporters walking out of a deli just in front of Pence.
Removing the press pool is a break with protocol that's sure to frustrate news organizations, which pay a lot for reporters to follow the candidates each day on the campaign trail. They could potentially miss a newsworthy, even historically significant, moment if denied access to the candidate's movements.
A Pence spokesman did not immediately respond to a request for comment.
Popular in the Community