A year after Gov. Mike Pence (R) signed it into law, Indiana's Religious Freedom Restoration Act is still causing problems in the state.
Lt. Gov. Eric Holcomb (R), who is running to replace Pence this fall, struggled to defend the measure in an interview with the Indianapolis Star published Monday. He admitted that there was a "rough patch" last year but repeatedly tried to turn the conversation away from the law.
"I'm not going to focus on that issue," Holcomb said.
The law quickly sparked intense backlash against Pence and the state of Indiana. Opponents of the bill argued that it would open the door to widespread discrimination against lesbian, gay, bisexual and transgender individuals. Business owners who didn't want to serve same-sex couples, for example, could now have legal protections to discriminate.
Companies responded by pulling business from Indiana, and the state spent $2 million on a public relations firm to help rebuild its image. A week later, Pence signed a revised version of the law that explicitly barred a business from denying services to someone on the basis of categories that include sexual orientation and gender identity.
That remedy, however, didn't really make anyone happy. RFRA supporters were upset that Pence backed away from the original version, and LGBT groups ― while relieved that the potentially harmful effects of the law were addressed ― wanted the measure repealed completely. The new language also did nothing to expand LGBT rights from where they had been prior to Pence's signing of the RFRA; LGBT discrimination is still legal in Indiana, since it lacks comprehensive protections on the basis of sexual orientation and gender identity.
State legislators are now looking at whether to add those protections to Indiana's civil rights code. Indiana-based companies ― including Cummins, Eli Lilly and CloudOne ― along with the Indianapolis and Indiana Chambers of Commerce, have told the legislature they want to see it happen.
"This is a financial issue for us," said Shannon Heider, director of state government relations for Cummins, according to Fox59. "We are a global company solving global problems, but our headquarters are here in Indiana."
The Indianapolis Star tried to ask Holcomb this week whether he supports expanding civil rights law to include LGBT protections.
"We'll see what the committee comes up with and the recommendations that they come up with. I mean, it went nowhere last session," he replied.
The Star continued to press him, asking whether he supported the idea in principle. Holcomb insisted that he wouldn't discriminate against anyone ― but wouldn't say he supported making that the law of the state either.
"I support the idea of not ― everyone that knows me or will work for me, my criteria will be do you have the best interest of the state in mind and your work ethic. And we will discriminate against no one, for any reason," he said. "And I ought to just put that plainly ― no one for any reason and not start continuing to single out and getting involved in a legislative process that may go nowhere."
Q: The Chamber of Commerce argues that that law goes straight to number one. It ties directly into retaining and recruiting the best and the brightest. If you go over to Lilly or Cummins, companies that ― they've been arguing this for two years so where is the [inaudible] there?

HOLCOMB: Well, if you look at ― I mean, I can cite stats as well. We have more people working than ever before in the history of our state. We've got a 4.6 unemployment rate. We've got jobs that we're looking to train people to fill. ... So again, I'm not going to focus on that issue.

I think we have to have balance where we're not discriminating against anyone. ... What I hear from folks when I am out around the state constantly is a fatigue over focusing on this issue when we are experiencing such job growth as we have over the recent years, or the tourism numbers here where we set a record in 2015.

I think it's interesting that my opponent, as well, seems to be laser-focused on this issue. I don't think he's gone a day or an interview certainly without mentioning it. He's spending millions of dollars trying to argue that point. It's almost as if he's running for governor of that issue, not of the state of Indiana. But thankfully, thankfully, the actual job creators are not buying into that. We are seeing record job growth, as a matter of fact.
Holcomb is running against former Indiana state House Speaker John Gregg (D), who frequently talks about LGBT issues as an economic concern.
Jared Leopold, communications director at the Democratic Governors Association, said Holcomb's response shows he would be just like Pence.
"Anyone wondering how Eric Holcomb would move Indiana past Mike Pence's disastrous RFRA legacy just got their answer: He wouldn't," Leopold said.
Pete Seat, a spokesman for Holcomb, underscored that voters in Indiana this election were more focused on
"Eric has traveled to all 92 Indiana counties in the past year and knows from those extensive travels that Hoosiers are exhausted by this issue and the coverage of this issue," Seat said. "Jobs and the economy, education and infrastructure, all areas where we've built great momentum, are the issues Hoosiers are talking about every day. Furthermore, both sides have dug in and forcing this issue in the upcoming session ― as John Gregg is itching to do ― will just cause a repeat of 2015."
Indiana's RFRA was also in the spotlight this week when a woman charged with child abuse cited the law in her defense. She argued that her religious beliefs allowed her to discipline her child as she saw fit, free from government interference. Pence's office did not return a request for comment on the matter.
In his editorial board interview with the Indianapolis Star, Holcomb tried to show some support for the law by noting that the American Civil Liberties Union is using RFRA to sue a jail on behalf of a Muslim inmate.
Indiana ACLU Legal Director Ken Falk told the Indianapolis Star that the current case is in line with the federal RFRA, which was signed in 1993. The original version of Indiana's RFRA signed by Pence was written more broadly than the federal law.
The ACLU criticized RFRA last year, saying the timing of the measure was important to take into consideration.
"The bill was introduced as a backlash reaction to achieving marriage equality for same-sex couples in Indiana," Jane Henegar, executive director of ACLU of Indiana, said at the time.
This piece has been updated with comment from Holcomb's campaign.
Before You Go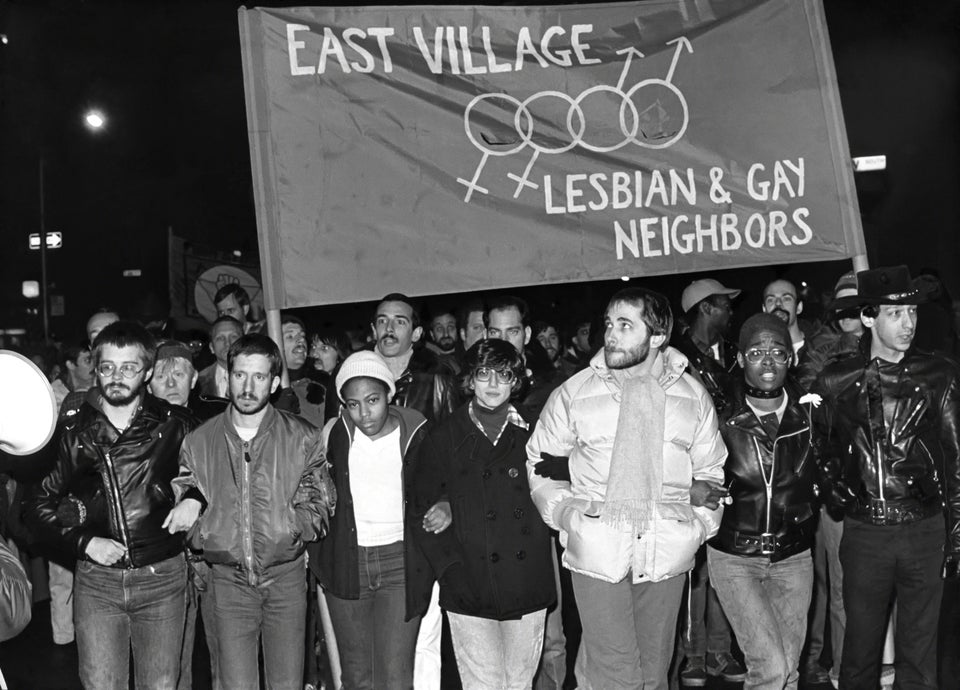 LGBTQ History
Popular in the Community