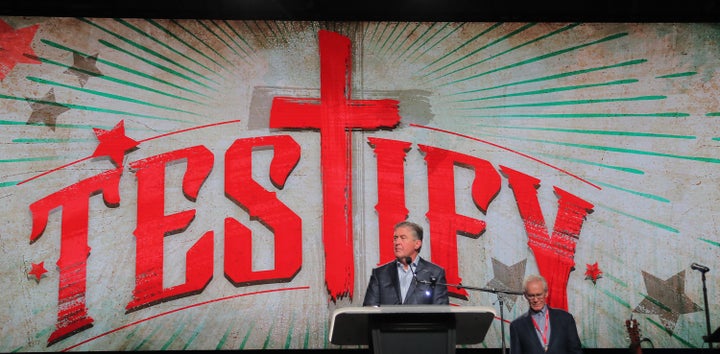 Pence's speech coincides with a tumultuous time for Southern Baptists. Along with considering resolutions about race and immigration, messengers are also wrestling with the implications of the Me Too movement. In recent months, hundreds of Southern Baptists have come forward to demand that the church do more to denounce the mistreatment of women.
At the start of an annual meeting that was already fraught with opportunities for disagreement, the announcement about Pence's speech took many Southern Baptists by surprise. SBC President Steve Gaines told The Baptist Press that Pence, who is also an evangelical Christian, was attending the Dallas conference to "express appreciation to Southern Baptists for the contributions we make to the moral fabric of our nation."
Garrett Kell, a Southern Baptist pastor from Virginia, introduced a motion to replace Pence's address with a time of prayer. Kell said that associating publicly with the administration of President Donald Trump suggests to SBC members that to being a faithful Christian also means being affiliated with a specific political party. 
Kell also said that the invitation would be hurtful to many Southern Baptists of color. Studies show that the SBC is overwhelmingly white (85 percent), with only 6 percent of members identifying as black, 3 percent as Latino and 5 percent as mixed or from other racial or ethnic groups. Surveys have also shown that, although white evangelicals have consistently shown overwhelming support for Trump, Christians of color hold significantly less favorable views of the president. 
"Many of our minority brothers and sisters will be especially hurt by this invitation, and I fear that it would communicate that our political associations are more important than our association with them," Kell said on the floor of the convention meeting.
He received support from other prominent Southern Baptists on Twitter. 
Brent Hobbs, a Southern Baptist pastor from Virginia, wrote in a blog that Pence's speech will highlight disunity within the denomination.  
"When Mike Pence enters, he'll receive a standing ovation from a (likely vast) majority of the messengers," Hobbs wrote on the SBC Voices blog. "This will alienate those in our own family who by conviction do not or cannot support this administration. Instead of standing together in unity over the gospel, our political differences will be put on display for an extended ovation."
Grant Ethridge, chairman of the convention's committee on order of business, responded to Kell's concerns by stating that the SBC does not align itself with any particular political party and that other government officials had addressed the meeting in the past. President George W. Bush spoke during the convention's 2004 annual meeting via satellite. Texas Gov. Greg Abbott (R) spoke at the annual meeting on Tuesday.
Ethridge said that the White House had reached out to the convention about the speech. He and other leaders felt it would be a "bad testimony" for Southern Baptists not to show "hospitality to those in authority." He cited Bible verses that teach Christians to submit to governing authorities and "honor the king."
"If President Obama's White House had contacted us ... we would have exercised the same judgment and welcomed them," Ethridge said during the meeting. "I believe we respect the position, regardless of whether or not you supported or voted for the person."
Ultimately, Kell's motion to cancel Pence's address was defeated by an overwhelming majority of Southern Baptist messengers.
Alternatives to Pence's speech were brought up several more times during Tuesday's meeting, but SBC leaders ruled that the question had already been decided.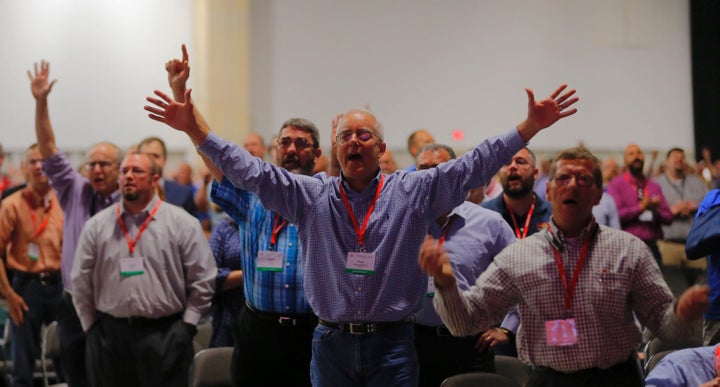 Throughout the two-day annual meeting, the SBC will consider a wide array of new resolutions about race, immigration and the role of women in the church.
In particular, Southern Baptist women are watching whether the denomination will pass a resolution to denounce those who commit or cover up sexual abuse and assault, and to urge ministers to report these cases to law enforcement.
The denomination is dealing with aftermath of several sexual misconduct cases. After receiving a flurry of complaints from women, a Southern Baptist seminary decided in May to fire its former president Paige Patterson over his mishandling of a student's rape allegation. Patterson later pulled out of delivering the coveted convention sermon at this year's SBC's annual meeting. 
Calling all HuffPost superfans!
Sign up for membership to become a founding member and help shape HuffPost's next chapter
BEFORE YOU GO
PHOTO GALLERY
Christian Women On Feminism