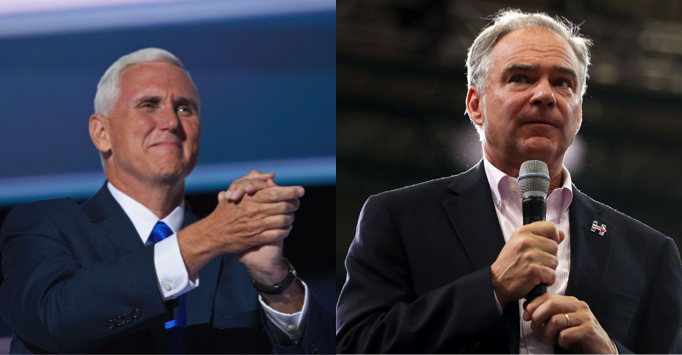 Republican vice presidential pick Mike Pence is gaining more popularity than his democratic counterpart, Tim Kaine, in the wake of the party conventions, according to a Gallup survey released Wednesday.
Pence's favorable rating has reached 36 percent among adults, an 18-point jump from a July Gallup poll conducted prior to the Republican National Convention. Kaine, however, has struggled to pick up as much momentum from the Democratic Convention. His image has improved by just 9 points since before the convention, placing his favorable rating at 33 percent, according to Gallup. 
As both candidates have become better known, impressions of Pence have been more positive than those of Kaine. Kaine's unfavorable rating is 30 percent, making his net rating only +3. Pence's unfavorability is lower, at 25 percent, giving him a net rating of +11. 
Favorability, however, isn't the same thing as voting. So though the VP candidates currently have relatively high favorability ratings, that doesn't necessarily mean they'll garner more support for the nominees at the top of the ticket. Both VP nominees have been picked for specific reasons. Pence is helpful to Donald Trump's campaign because he could unite the Republican base. As for Hillary Clinton's campaign, Kaine could reach out to independents who lean Republican and sway voters who are still undecided. 
Gallup suggests Pence may be benefitting from the high degree of media attention surrounding Trump's run. Kaine, on the other hand, may be experiencing a hard time as a result of some Bernie Sanders supporters wishing that Clinton had chosen a more progressive running mate.
The data suggests that Republicans have been more eager to embrace Pence than Democrats have been to embrace Kaine. Sixty-four percent of Republicans have a favorable view of Pence, a 24-point jump since before the RNC. Just 54 percent of Democrats say they feel favorable toward Kaine, a 12-point jump for the Virginia senator since before the DNC.
The HuffPost Pollster chart, which aggregates publicly available polls, shows Pence with a slightly higher favorable rating than Kaine. However, the difference between the favorable and unfavorable rating is the same for both at 6 points.
Of course, first impressions aren't everything. There is still time for the candidates to win over more voters, especially since more than a third of Americans haven't made up their minds: 37 percent say they haven't heard enough about Kaine to rate him, and 39 percent say the same of Pence.
REAL LIFE. REAL NEWS. REAL VOICES.
Help us tell more of the stories that matter from voices that too often remain unheard.
BEFORE YOU GO
PHOTO GALLERY
Republican National Convention Sideshow