Mike Pence spent the vice presidential debate Tuesday dodging questions about Donald Trump's statements, often outright denying that the GOP presidential nominee has said things he has actually said.
It allowed Pence to largely avoid being put on the spot about his own record in Indiana, including his controversial "religious freedom" law.
As governor, Pence's most well-known and high-profile issue has been lesbian, gay, bisexual and transgender rights. In March 2015, Pence quietly signed a religious freedom law that could have opened the door to widespread discrimination. Business owners who don't want to serve same-sex couples, for example, would now have legal protections to discriminate.
The national backlash was swift and fierce. In the week that followed, groups withdrew events from the state in protest, and Angie's List — an Indianapolis-based business run by a former Republican staffer — canceled a planned $40 million expansion of its headquarters. Businesses, including Apple and Marriott, condemned the law, and some states and localities signed orders boycotting Indiana.
Pence eventually signed a revised version of the law in response to the criticism, explicitly barring a business from denying services to someone on the basis of categories that include sexual orientation and gender identity.
But the law has left a bitter taste for many in Indiana, including some Republicans who weren't happy that Pence unnecessarily created all this controversy. Because many viewers who tuned in to the one and only vice presidential debate this cycle wanted to hear the candidates comment more on the top of the ticket and administration plans, it gave Pence a chance to get through it without having to answer tough questions about his own legacy on LGBT rights. As noted by Michelangelo Signorile, HuffPost Queer Voices editor-at-large, Pence is rarely asked about the religious freedom law on the campaign trail.
The only time "LGBT" was mentioned was when Virginia Sen. Tim Kaine, the Democratic vice presidential nominee, brought it up in reference to Russian President Vladimir Putin going after "LGBT folks and journalists."
During the debate, Pence did go into his record on abortion, which is another issue where he's made a name for himself nationally both as governor and previously as a member of Congress.
As governor, Pence signed a bill that would require doctors to offer women the "remains" of the fetus after an abortion, which has no medical purpose.
"A society can be judged by how it deals with its most vulnerable: the aged, the infirm, the disabled and the unborn," Pence said Tuesday. "I believe it with all my heart, and I could not be more proud to be standing with a pro-life candidate in Donald Trump."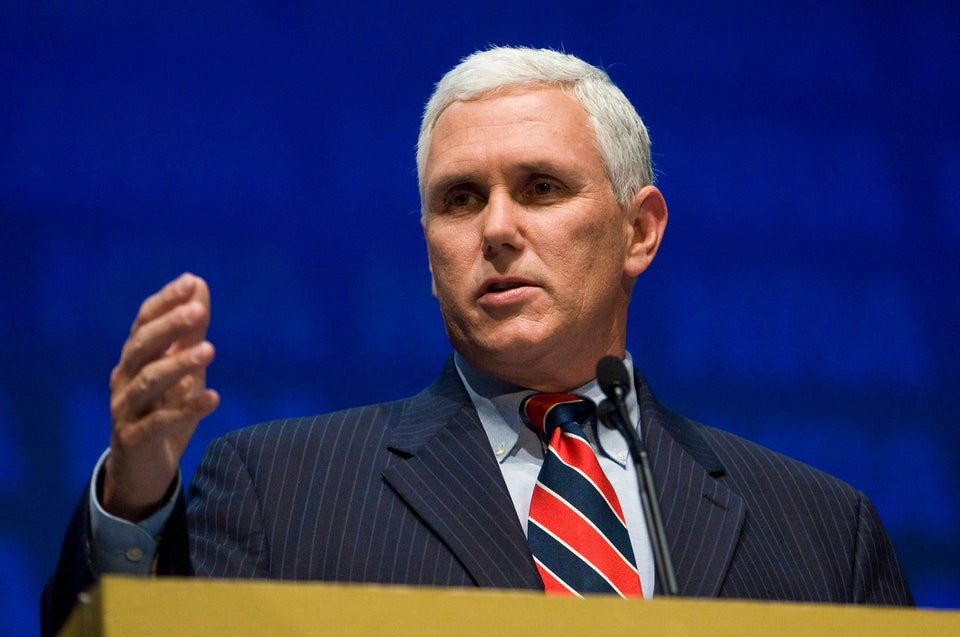 6 Reasons Mike Pence Is Terrible For LGBTQ People
Popular in the Community