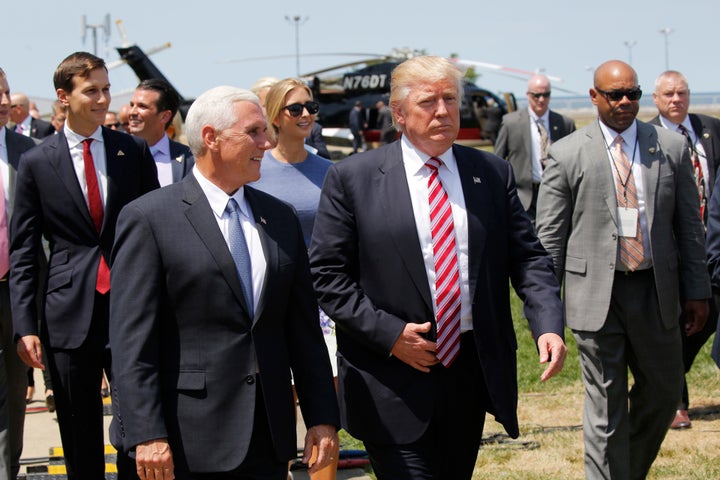 CLEVELAND ― It's a legitimate mystery what Donald Trump's relationship with Capitol Hill would look like if he were to become president. But if his selection of Indiana Gov. Mike Pence as his running mate is any indication ― and Republicans seem to think it is ― Trump may be looking to work with the most ideologically extreme members of Congress.
The Pence pick certainly provides some insight into Trump's overall electoral game plan. Instead of trying to considerably broaden his appeal with minorities or women, Trump seems to be doubling down on white, conservative men ― shoring up his already white and conservative base of men.
But more than a political maneuver, there's a message to members of Congress in the Pence selection: This is the kind of legislator I want to work with.
Before Pence was governor of Indiana, he served 12 years in Congress as a bombastic member of the far-right. He consistently pushed GOP leaders to the right in rhetoric and in policy, even becoming a leader himself ― first as a chairman of the conservative Republican Study Committee and then as the GOP Conference Chairman, the No. 3 spot among House Republicans.
His extreme fiscal positions often made other Republicans look less serious about tackling debt. In 2005, he co-sponsored a Social Security privatization bill that, according to the Center on Budget and Policy Priorities, would have forced entitlement cuts of roughly 30 percent.
He also advocated for ultra-conservative social positions. He tried for years to pass a constitutional amendment defining marriage as a bond between a man and a woman. He consistently tried to defund parts of Planned Parenthood. And he fought stem-cell research.
In many ways, Pence was a member of the divisive House Freedom Caucus before there ever was a House Freedom Caucus.
Trump has already shown a willingness to give the HFC special treatment. Paul Manafort, Trump's campaign manager, met privately with Freedom Caucus board members ― with the addition of HFC member Scott DesJarlais (R-Tenn.), who was an early Trump supporter ― nearly a month ago for roughly 45 minutes to discuss their concerns and set up a meeting just between the conservative group and Trump.
While that meeting hasn't taken place yet, it's clear Trump sees conservatives like those in the Freedom Caucus as his natural allies. And choosing Pence to be his vice presidential nominee has already gone a long way toward solidifying support among HFC members, many of whom have shown reluctance over supporting Trump.
At least two HFC members, Reps. Justin Amash (R-Mich.) and Mark Sanford (R-S.C.), are included among the few Republicans in the House who openly oppose Trump. And many other members of the group have shown reservations about supporting the nominee.
But, just as intended, Trump's VP selection is working to allay some concerns. 
"Mike Pence is a good, honorable, experienced guy who has a very good understanding of the threat posed to America by our deficits and accumulated debt," Rep. Mo Brooks (R-Ala.) told The Huffington Post this week. "Mike Pence is a valuable addition to the ticket."
Brooks notes his public position is that he'll support all Republicans on the ticket in November, but he's repeatedly expressed anxiety over supporting a person with such whimsical political positions.
Rep. Jeff Duncan (R-S.C.) also told HuffPost that while he was already supporting Trump, the Pence pick helped with that decision.
"Having served with Pence and knowing him, as well as following his career for years, I believe he is a great fit for Donald Trump," Duncan said. "In addition to his conservative voting record, he brings strong social conservative credentials to the Trump team."
Still, Trump's problems with some conservatives run deeper than just a few questions about the candidate's social conservatism.
HFC board member Mark Meadows (R-N.C.) told HuffPost this week that while he was supporting the Republican nominee, he still had some issues with Trump.
"Really my concerns are probably more on the balance between Congress and the executive branch," Meadows said. "And so to the extent that Mike Pence can help a new administration understand the importance of that balance? Certainly."
"But in terms of credentials," Meadows continued, "whether they be social conservative or fiscal conservative credentials, not as much."
There's of course a risk in reading too much into what Trump does. He could, at any moment and for any reason, reverse himself on anything. And conservative lawmakers, many of whom have experience in opposing members of their own party, seem suspicious of a nominee with such mutable ideology.
Pence would seem to offer Trump a steady Republican ideology. But his own ambition has already shown Republicans that he's mutable too. (Pence famously called Trump's Muslim ban "offensive and unconstitutional." Now, he's not only on the same ticket with Trump; he's also reversing course on that position.)
Still, for conservatives inside and outside of Congress, Pence is an indication that Trump fashions himself a true conservative. And for Republicans looking to enact a far-right agenda, Trump's new identity as a far-right conservative is a good sign.
Calling all HuffPost superfans!
Sign up for membership to become a founding member and help shape HuffPost's next chapter
BEFORE YOU GO
PHOTO GALLERY
Best Photos From The Republican National Convention