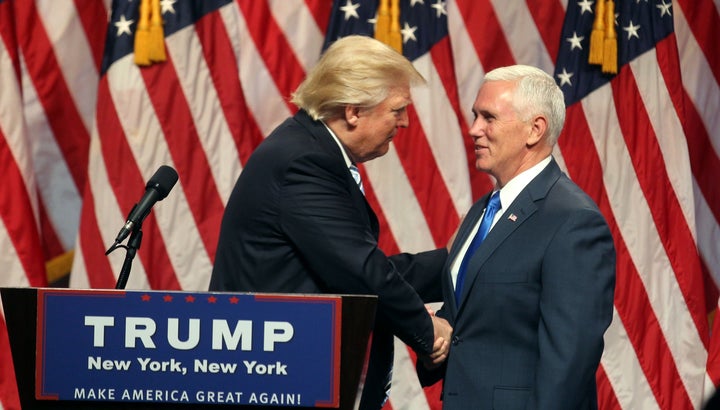 CLEVELAND ― Donald Trump managed to pick a running mate who is, in many ways, his complete opposite. Indiana Gov. Mike Pence is low-key and liked by the establishment, and has spent his career focused on social issues like fighting abortion and gay rights. And unlike the famous real estate mogul, most people have no idea who Pence is. 
"I had never heard of him," said Caroline Curtis, 19, a delegate aid from Firestone, Colorado. "From what I can tell, from just a few little interviews I've seen, he seems OK."
"I don't know much about Pence," added Tony Leal, a delegate from Los Angeles. "I notice he was a congressman. Because it just happened, and I've been so busy with my own campaign, coming here for the convention, I really haven't had time to vet him myself."
Howard Kline, 55, whose wife is a delegate from Texas, also said he didn't know anything about Pence.
"I don't know enough about him to say at this point," he said when asked his opinion of him. "I'm assuming that Trump wouldn't have picked him if he wasn't a good candidate."
A poll released Wednesday bears out this shoulder-shrugging about Pence. A majority of registered voters say they don't know enough about Pence to say whether he's a good or bad vice presidential pick, according to a new NBC News/SurveyMonkey poll. 

Pence's base is considered to be socially conservative evangelical voters. But even among self-described conservatives, a considerable portion don't know much about him. 

Nicky Kapadia, a self-described "hard-core Republican" from Los Angeles, also admitted she knew little about him, but now said he seems like "a great conservative" and "a perfect balance for Donald Trump on the ticket."
Even Trump wasn't sold on his running mate. Trump was scheduled to announce his choice midday Friday, but eventually delayed it because of the attack in Nice, France. As late as midnight Thursday, Trump was still calling advisers and asking whether he could change his mind and choose someone other than Pence ― a man he was pressured to choose for the sake of party unity. Trump personally felt more comfortable with New Jersey Gov. Chris Christie (R) or former House Speaker Newt Gingrich (R-Ga.). 
"Pence is a good man ― a former governor, so he's got executive experience, but he's also a former legislator," said Lamar Lewis, 62, a delegate from Temple, Texas, who was more familiar with Pence than most conventiongoers. "He can help Trump, who doesn't know about the legislative process. He's somebody who understands how it works. He'll help him out."
Calling all HuffPost superfans!
Sign up for membership to become a founding member and help shape HuffPost's next chapter