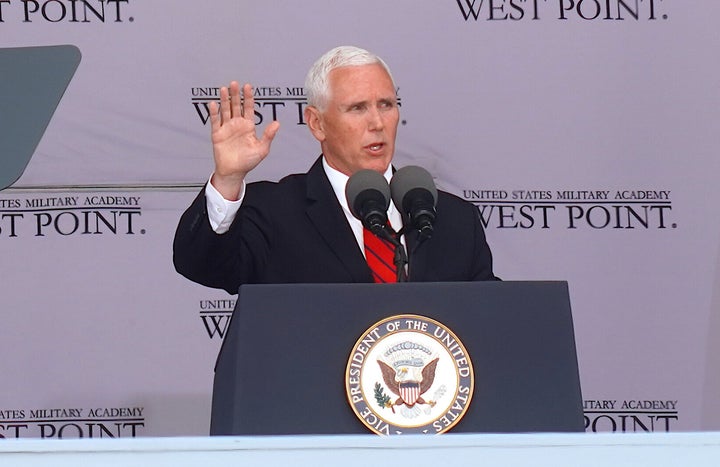 As a veteran's wife who has been part of the West Point Military Academy community since 2002, I know that government and military brass rotate between service academies as commencement speakers each year. So when I did a mental calculation of that rotation and realized that Vice President Mike Pence was up this year, I had ― shall we say ― feelings.
A few weeks ago I brought out a currently popular T-shirt that reads "Why be racist, sexist, homophobic, or transphobic when you could just be quiet?" in rainbow letters to wear at West Point during Graduation Week ― a time when proud parents and returning alumni, and of course, Pence himself, would be coming to the academy.
I was not alone. When other West Point friends — some spouses, some veterans themselves, some who work in the community — heard that Pence, who has an especially long and virulent anti-LGBTQ record, was coming, they too started to plan their protests. Some friends staked Pride flags in their flower planters on their quarters, others purchased rainbow-striped clothing to wear at graduation, and one even put Pride buttons on their dog's collar before walking the pooch along the sidewalks and garden trails of the central post area.
This rainbow-hued resistance was both the least, and for some, the most, we could do. We wanted to show our objection to Pence and what he stands for and we wanted to affirm our support for queer cadets without overshadowing the occasion of their commencement. We were also mindful that overt protest might negatively impact some individuals' spouses (or, rather, their spouses' professional profiles) and so we wanted our protests to come across as respectful as they were visible.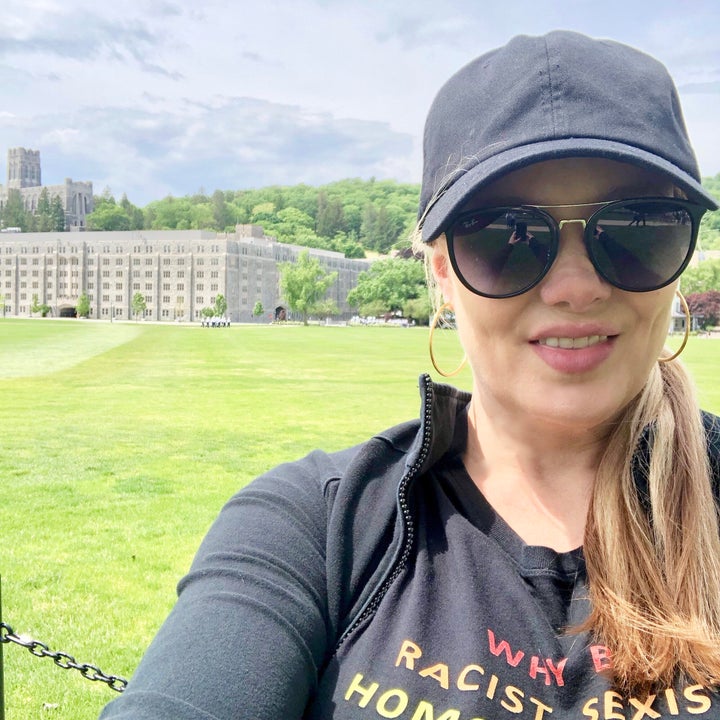 I felt especially moved into action because of my hopscotch journey as a queer military spouse, having married my then-Army officer husband (a cis-het man) in 2002, several years before the repeal of "don't ask, don't tell."
At the start, all my LGBT military community friends were closeted. Later on, I befriended veterans who'd been discharged from the Army under DADT. One friend, who was targeted by a homophobic senior officer, had her off-duty activity tracked for months as he built a case against her, then she was arrested by the military police and led from her workplace on post in handcuffs.
As an active-duty spouse, I listened as a friend described holding hands with her girlfriend in, say, IKEA, as a potential career-ender. I also listened to another lesbian friend, who, after having nearly died from a traumatic brain injury in a post-deployment motorcycle crash, tried to come out to her visiting military superiors from her hospital bed. Her brain's speech center was scrambled, however, so the right word evaded her and she only managed to come out to her senior officer as a "Libyan."
I morphed from military spouse to veteran's wife upon my husband's retirement from active duty in 2008, and when DADT was repealed in 2011, I had the opportunity to attend the annual Knights Out Gala for LGBT West Point alumni. I was seated at a banquet table with a splendid retinue of female transgender West Point grads, having formerly served as aviators and engineers, now decked out in their evening finery. I had a blast. Seat me next to a transgender bottle-blond minister in a bodycon dress who likes to talk about sci-fi and Jesus, and our conversation is a bottomless font of overlapping interest.
By the Knights Out Gala in 2014, the integration of the military was in full swing, and fully visible at West Point. Small talk became easier, introductions less fraught. Now a plus-one at the event was introduced without equivocation or fudging: My partner. My wife. My husband. (Though you wouldn't hear these honorifics from cadets, though, as they are not permitted to marry.) For the first time, the academy superintendent, General Robert Caslen, attended the gala with his wife, making the evening feel even more special. An almost palpable sense of relief hung in the air. How rare an evening such as this, where we were graced with the acknowledgement of the academy brass, and we could be everything we are all at once. When two gay cadets stood in front of the podium and, in their white-over-gray uniforms, sang a perfect a capella rendition of then West Point alma mater — Live, serve and die we pray, West Point for thee — many of us in the audience wept.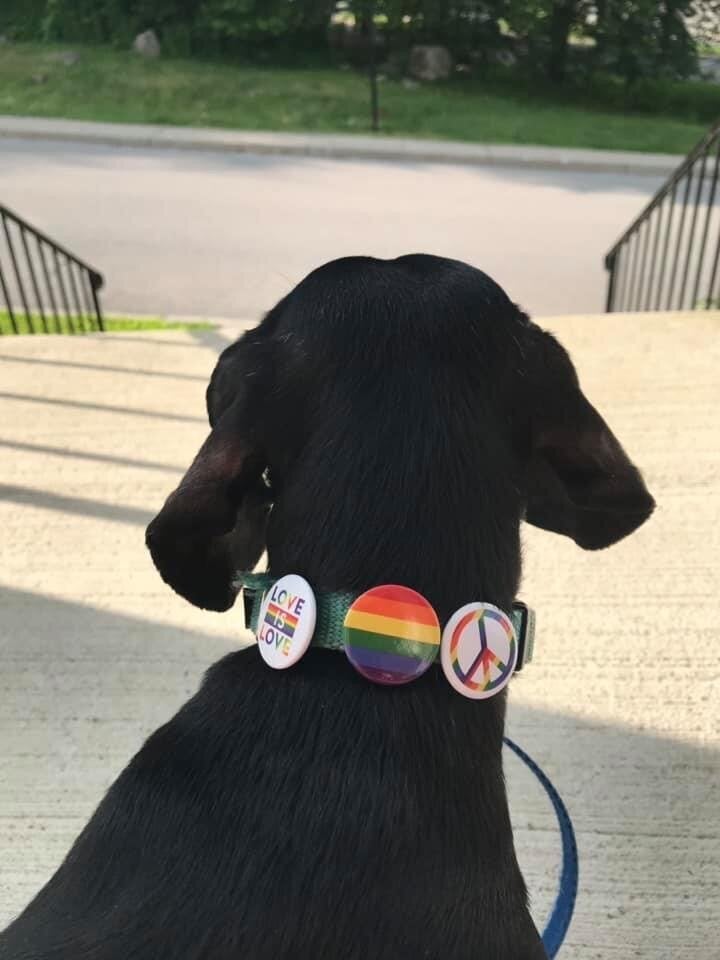 Flash forward to 2017, and under the fluorescent light of a classroom in West Point's Lincoln Hall, I volunteered to teach a "Writing Your Queer Experience" workshop for Spectrum, the cadet LGB(T) group. A significant portion of the cadets in attendance identified as people of color. I tried to be especially solicitous of the queer female cadets of color. Imagine it: a gender minority within a racial minority within an orientation minority within an occupational minority. If there ever were a population I'd want to teach, coach, and mentor so they might bring their stories to fruition, this sliver-sized group is the one.
With so much of my recent life entwined with queer cadets and military members, you can imagine my horror that this year the academy had, for the first time, a graduation speaker whom I find utterly contemptible. Pence stands for everything I resist: craven, homophobic, anti-immigrant, a cowboy for Christ who, in allegiance to Trump, advances an agenda that dumps on every American ideal. And his appearance would be taking place right on the cusp of Pride month. Could I let that go unremarked? No.
Most of my friends would be donning their rainbows for the graduation ceremony itself, when Pence was speaking, but some of us started ahead of time. The rainbow-festooned dog got trotted around the campus early in the week; the rainbow flags were staked in the quarter's planters shortly thereafter. I decided to rep my colors — and my politics — at the cadet parade review, which took place a few days before the actual commencement.
When the day arrived, I was nervous but determined as I put on my shirt, some jeans and my shades and took my place in the reviewing stands among the proud families gathered for a cadet review. My hands shook as I imagined cadet families glaring or shaking their heads at me. (Please, may we pause to marvel at the bourgeois, straight-passing, white privilege of me being afraid of being sneered at? Luxury problems, y'all.) But I knew there were queer cadets in that parade, and I had to get out of my comfort zone. For them.
"Pence stands for everything I resist: Craven, homophobic, anti-immigrant, a cowboy for Christ who, in allegiance to Trump, advances an agenda that dumps on every American ideal. And his appearance would be taking place right on the cusp of Pride month. Could I let that go unremarked? No."
Zero chill is a contraindicated disposition for the military milieu, but, as the "La Cage Aux Folles" anthem says, "I am what I am." But what I am, also, is unbearably, unrelentingly proud.
Being at the military academy awakens in my heart that fierce patriotic thrum, like when I see rainbow banners at a Pride march, or when I see the stars and stripes rung down to the sound of "Taps" and cannon fire at the academy's Trophy Point. It is my privilege to wear my dissent, my honor to be given the opportunity to help bring into view a picture of a national institution and a supporting community that is more complex, more diverse, and more audaciously patriotic than the American public is called to acknowledge.
I got a few weird looks at the parade, but nothing more. I can deal with that. I also had a lovely, if somewhat coded, conversation about Pence with a West Point alum who was there to see his own son graduate this year. We bonded over the bitter irony of a vice president whose comments and actions give the middle finger to the Constitution addressing a group of soon-to-be officers who pledge their professional lives to uphold it.
After the parade, I walked back to my car where I'd parked it at the post Starbucks. As I crossed the intersection near the dean's quarter's, a red SUV rolled by and a young black woman stuck her head out the passenger side window and yelled, "I like your shirt!" I beamed and we exchanged a thumbs-up.
As with any matter one might protest, wearing a T-shirt or a ribbon isn't nearly enough. But it is, in this formally apolitical setting, what is within bounds. We do what we can, where we can. More often than I'd like, a whisper has to stand in for a scream. So there I sat in the bleachers, in my tear-stained shirt, with my heart in my hand and my politics firmly in place.
This is your military. This is your America. We are here. We are watching.
Lily Burana is the author of four books, including "I Love a Man in Uniform: A Memoir of Love, War and Other Battles." Follow her on Twitter at @lilyburana.
Do you have a compelling personal story you'd like to see published on HuffPost? Find out what we're looking for here and send us a pitch!
Popular in the Community