The inaugural exhibition of Garis & Hahn, which recently relocated from their gallery space in New York to the downtown arts district of Los Angeles, features the curious animated paintings of Mike Perry. The name of his show, "Intoxicating Pollen Wiggling in a Moist Journey of Constantly Blooming Tides," sounds a bit like the eccentric and provocatively long titles of Damien Hirst. Twelve works, including a new series of mobile sculptures called "Inner Thoughts," provide the viewer with a post-Pop surrealist visual language that is jam-packed with interlocking shapes, which often are derived and distilled from amorphic and sometimes distorted humanoid forms tumbling every which-way.
Perry also takes a cue from the Fauvists and German Expressionists, and the pure muted colors and Blue Nude cut-outs of Matisse. Blurring the standard boundaries of figures, interiors and abstract landscapes, perhaps prompted by the work of Stuart Davis, the artist creates a subtle and often hypnotic, flowing blend and appendage-filled portrayal of the unexpected. Perry also is an accomplished illustrator, animator and designer based in New York, so much of his work has an illuminating flavor backed up from his obvious facility for drawing the figure. In addition to his role as the artist for Comedy Central's "Broad City," Perry's illustrations have appeared in numerous publications, from GQ to The New York Times. The same mix of images and ideas also can be found in the work of Saul Steinberg, whose cover illustrations for The New Yorker continue to be sought-after auction pieces. The unusual mix of formal abstraction and subtly identifiable characters thrown into a healthy tossed salad of colorful shapes often seems animated with a narrative that offers few clues, and has become a successful recipe for the marriage of this artist's various approaches to picture-making.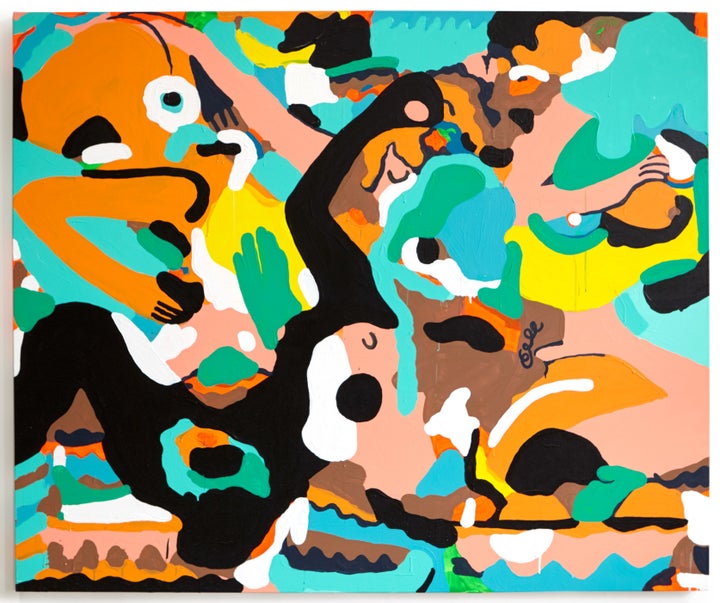 Among the most intriguing works in the show is Melting Pot, with its subliminal and discombobulated figures and elongated appendages likely making it the most distinguished in the show. In this complicated painting, arms and legs from a variety of ethnic backgrounds, from black to white and brown to pink, fashion a veritable "melting pot," cleverly squished together though with an unexpected harmony, as islands of pure color dance back and forth, creating movement on a range of spatial levels. Like the inventive works of Dana Schutz, specifically Elevator, a claustrophobic depiction of bodies and bugs recently exhibited at the Whitney Biennial, Perry's challenge often is a determined strategy of integrating color, form and fantasy that is packed together like a can of headless sardines.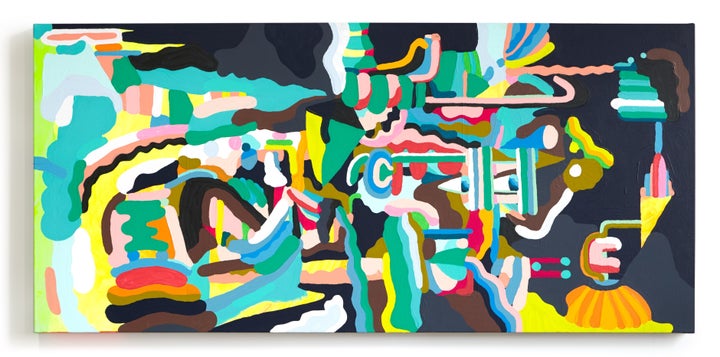 The Future is Coming, is a non-narrative painting where rounded contours are stacked haphazardly both vertically and horizontally, appearing somewhat like an aerial view of a circus that has just come to town.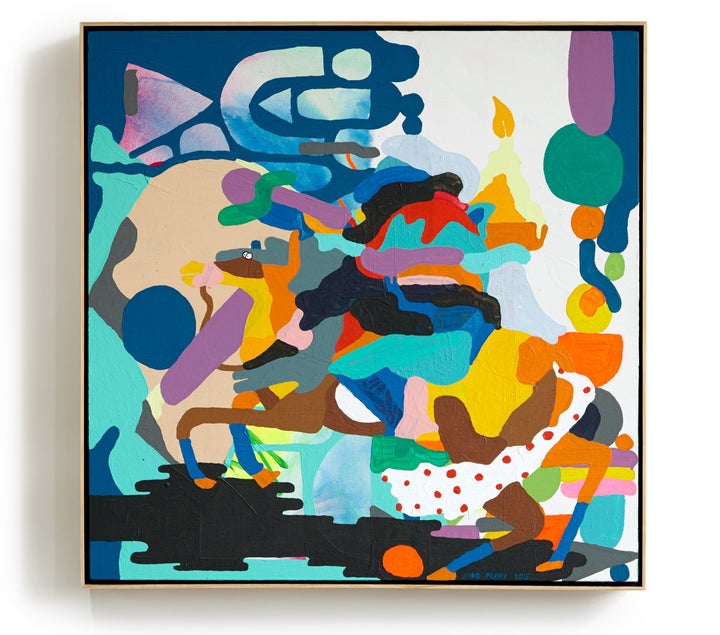 A painting titled Learning to Draw a Horse utilizes the artist's unique idiosyncratic conglomeration of happy-go-lucky profiles that cleverly camouflage a horse whose two, tiny, cartoon-like eyes stare ahead in amazement. Perry chooses to follow a fine line that bounces back and forth between narrative silhouettes and pure soft suggestive abstraction.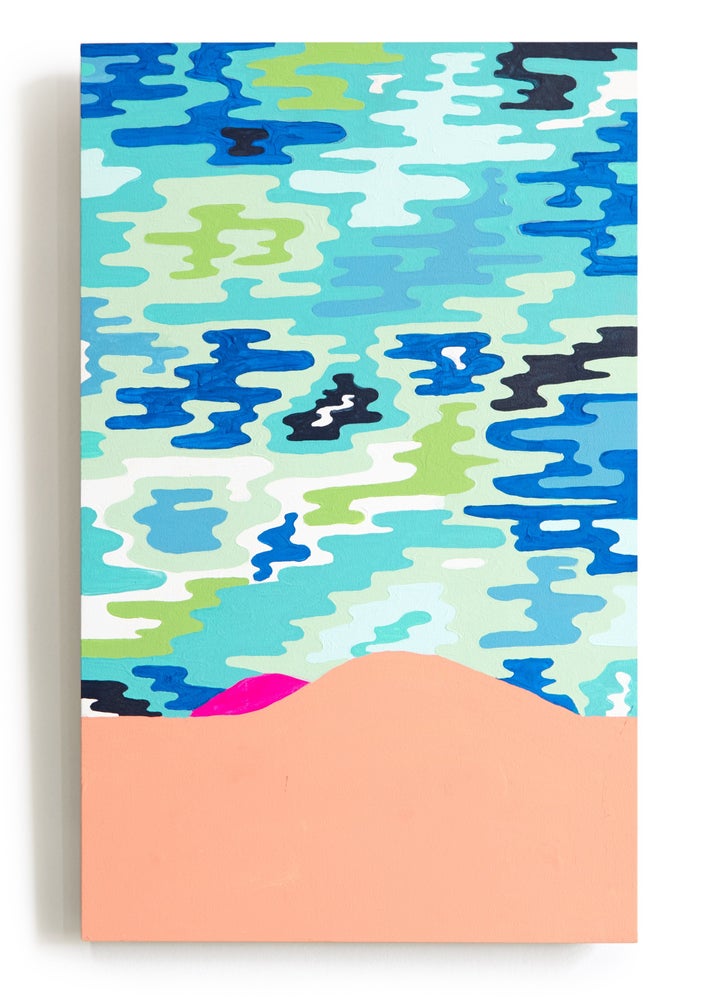 Reducing a sunbather to a plump derriere as a foreground instrument below an articulated, reflected water pattern, a favorite subject of David Hockney, produced a picture labeled Nice Ass, which could serve as a nudist colony tourist postcard on the edge.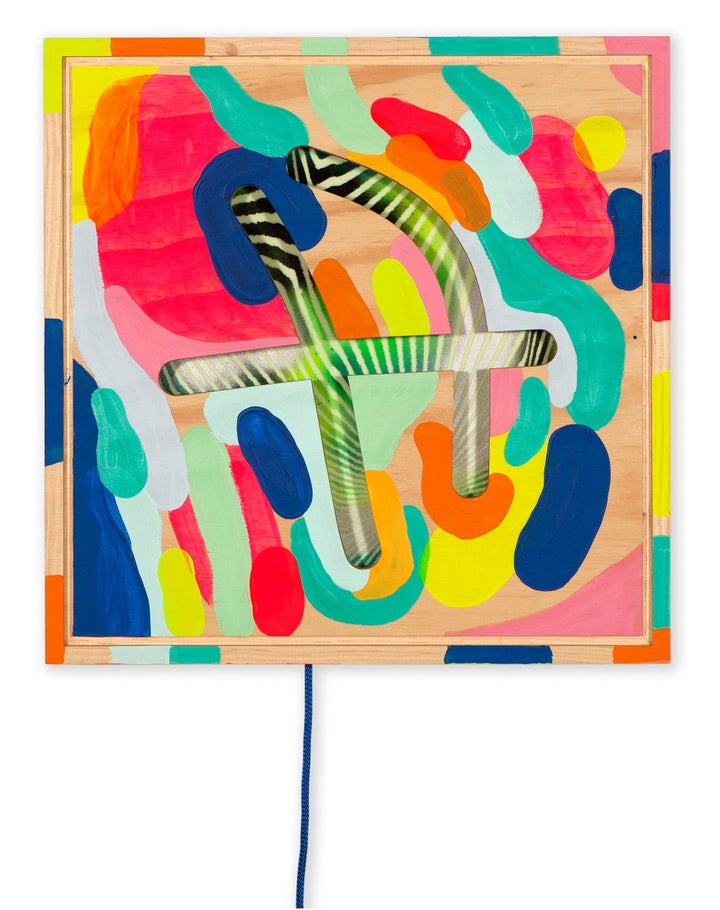 Cross Roads, a work on plywood, is a handsome composition of contours featuring three elongated cylinders that overlap onto each other and is oddly reminiscent of a post-modern abstract cartoon carnival.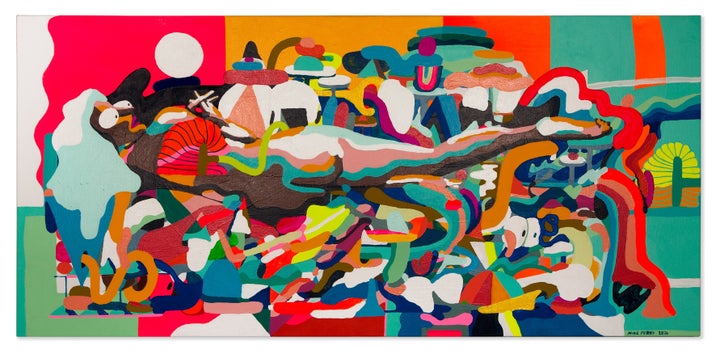 Sleep and Comets depicts a reclining figure, hands folded, with a background of balancing shapes on pedestals. A pair of eyes below is reminiscent of Philip Guston's late painting of comical figures with enlarged eyeballs.
This is a rich and finely-tuned show, consistent in an unusual style that's full of surprises, wit and whimsy, and the perfect first act for a new gallery in town.
The gallery is located at 1820 Industrial Street, Los Angeles, CA 90021, T. 213 267 0229. For more information, please visit: Garis & Hahn
Popular in the Community