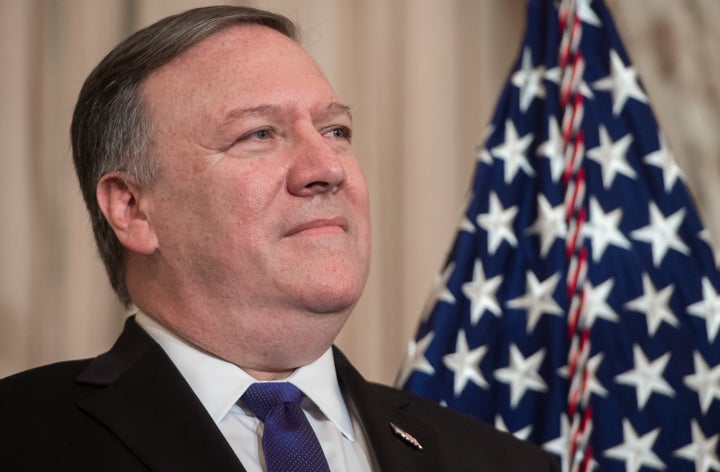 It sounds like Secretary of State Mike Pompeo might not be absolutely clear on the surname of North Korean leader Kim Jong Un. 
Pompeo addressed reporters at the Yokota Air Base in Japan this week on the way to North Korea. In discussing the upcoming summit with President Donald Trump, Pompeo referred to the North Korean dictator as "Chairman Un," rather than "Kim," the dictator's actual family name. 
Pompeo's error was widely viewed as a diplomatic flub ― especially since this week's trip wasn't even his first to the Hermit Kingdom this year. He made a secret trip to the country when he was still CIA director.    
The slip-up drew criticism from those in international relations and media circles. 
By the end of what he called "a long day," Pompeo seemed to have cleaned up his act and called the North Korean leader "Chairman Kim" in speaking to reporters.
Like that of China, Vietnam and some other Asian countries, North and South Korean tradition puts the family name before a person's given name. Unlike given names in South Korea, however, those in North Korea don't typically use hyphens in English translation, John Delury, a professor at Yonsei University in Seoul, South Korea, explained to The New York Times.
Pompeo has worked with many Asian leaders in the past who used the same naming practice, so his mistake came as a surprise. 
The secretary of state traveled to North Korea to help arrange the historic nuclear summit between that country and the U.S. Trump, who is expected to meet with Kim either later this month or next, tweeted on Wednesday that a specific date and location have been set.
During Pompeo's time in Pyongyang, Kim released three American political prisoners: Kim Hak-song, Kim Dong-chul and Kim Sang-duk. They are due to arrive at Andrews Air Force Base in Maryland on Thursday, according to Trump's tweets. 
REAL LIFE. REAL NEWS. REAL VOICES.
Help us tell more of the stories that matter from voices that too often remain unheard.