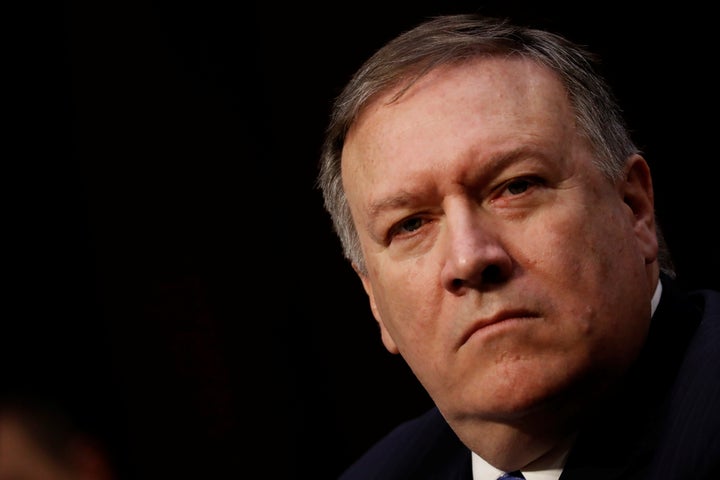 WASHINGTON ― Sen. Rand Paul (R-Ky.) announced Monday that he would support Mike Pompeo to be secretary of state, a change in position that allowed the CIA chief to be recommended favorably out of the Senate Foreign Relations Committee after all.
Paul, a libertarian-leaning critic of U.S. military intervention abroad, has spoken out against Pompeo for weeks, citing concerns with his support for the Iraq War. Last month, in a news conference announcing his position, Paul said he was "perplexed" by Pompeo's nomination and even called him "the wrong fit for America."
"It goes against most of the things President Trump campaigned on, that the unintended consequences of regime change in Iraq led to instability in the Middle East," Paul said then.
But on Monday, shortly before the committee was expected to vote, Paul tweeted that he'd received assurances from President Donald Trump that Pompeo agrees with him that "Iraq was a mistake, that regime change has destabilized the region, and that we must end our involvement with Afghanistan."
Explaining his changed position in remarks before the committee, Paul said Pompeo had sufficiently "incorporated" the idea that the Iraq War was a mistake into his worldview. But the senator added that he wished the CIA director would say so publicly.
"Time will tell if those assurances are true or not," Paul said before the vote on Monday, "but I do take him at his word."
Paul also pointed to recent talks he's had with Trump about surveillance policy as another factor in his decision to support Pompeo's appointment.
"I've been very concerned that the FBI's allowed to look at Americans' information without a warrant," Paul said Tuesday during an appearance on MSNBC's "Morning Joe."
"I've had some discussions with [Trump] over whether or not we could actually have an executive order from the president that simply says from now on we're going to obey the Fourth Amendment and that FBI agents will have to get a warrant to look at these foreign surveillance databases," he continued. "That's a big step forward for me, too."
During a White House event Monday with French President Emmanuel Macron, Trump thanked Paul for coming around to his nominee. Trump said the senator "never let us down" and called him "a good man."
In a tweet earlier Monday when Pompeo's prospects didn't look as good, Trump had blasted Democrats for being "obstructionists."
Pompeo, a former Republican congressman from Kansas, is well-known for his militaristic foreign policy stances. He has pushed for regime change in Iran and openly mused about the U.S. overthrowing North Korean leader Kim Jong Un, whom he recently met during a secret trip. He also supported ending the 2015 nuclear agreement between Iran, the U.S. and five other countries. But he reversed or walked back many of those positions during his confirmation hearing earlier this month.
Democrats, meanwhile, grilled Pompeo about his ties to an anti-Muslim conspiracy theorist during his confirmation hearing and questioned him about his past homophobic remarks. Pompeo said he would treat "every individual, regardless of their sexual orientation," with respect despite his personal belief that same-sex couples should not have the right to marry.
Although 15 members of the Democratic caucus voted to confirm Pompeo to run the CIA last year, many of those same senators have opposed his nomination to be secretary of state this year, expressing concern that he is ill-suited to be the nation's top diplomat.
Earlier Monday, Sen. Joe Manchin (D-W.Va.) joined Sen. Heidi Heitkamp (D-N.D.), another vulnerable Democrat up for re-election this year, in announcing his support for Pompeo, whom Manchin praised for his "exemplary career in public service."
This story has been updated with Sen. Paul's remarks before the committee and on "Morning Joe," Trump's response to his change of mind and news of Pompeo's favorable committee endorsement.
Hayley Miller contributed reporting.
Popular in the Community