Secretary of State Mike Pompeo traveled to Saudi Arabia on Tuesday ostensibly to confront officials about the suspicious disappearance of Washington Post columnist Jamal Khashoggi. But the visit wasn't so much contentious as it was downright chummy.
President Donald Trump quickly followed up on Twitter with the suggestion that Crown Prince Mohammed bin Salman was leading a "full and complete" investigation into the alleged torture, death and dismemberment of the Saudi journalist.
Pompeo was dispatched for sit-downs with King Salman and the crown prince, who reportedly ordered the operation against Khashoggi. What was originally billed as a stern, potentially even hostile, meeting with the prince seems to have been anything but.
Video of the interaction provided by the Saudi-owned channel Al Arabiya shows Pompeo smiling warmly and laughing for the cameras: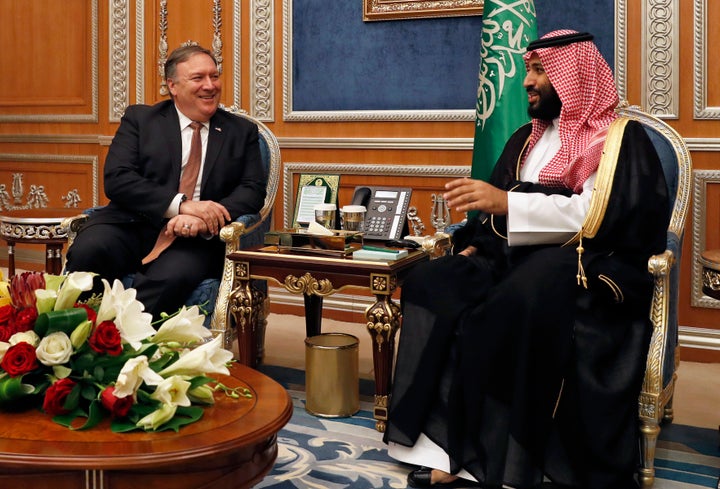 A readout of the meetings provided by State Department spokesperson Heather Nauert doesn't dispute that impression, emphasizing their friendly nature.
Per the official U.S. government account, Pompeo spent his time "thanking" the Saudi king for his country's "strong partnership" with the United States. The two also discussed unspecified "regional and bilateral issues." As for the death of Khashoggi, Pompeo only had gratitude there: "The Secretary also thanked the King for his commitment to supporting a thorough, transparent and timely investigation."
"The Secretary reiterated the President's concern with respect to Jamal Khashoggi's disappearance, as well as the President's desire to determine what happened," the State Department said. 
A few hours later, Trump tweeted a similarly positive spin on the meetings:
All this comes on the heels of a phone call between President Trump and King Salman on Monday, in which the Saudis "firmly denied" any knowledge of what happened to the journalist. Trump appeared to accept that, telling reporters afterward that he thought "rogue killers" might be to blame.
Al Arabiya reports that Trump also used the call to "compliment" the Saudis for their cooperation with Turkey in the investigation. Khashoggi went into the Saudi consulate in Istanbul on Oct. 2 and has not been seen since.
The Saudis shifted their tone a bit late Monday, indicating that maybe they were in fact responsible for what happened to Khashoggi's death. They might be willing to say there was an interrogation, but his death was accidental.
Calling all HuffPost superfans!
Sign up for membership to become a founding member and help shape HuffPost's next chapter