WASHINGTON ― Mike Pompeo has reversed his position on the whistle-blowing platform WikiLeaks since becoming head of the CIA.
The former Republican congressman called WikiLeaks "a non-state hostile intelligence service, often abetted by state actors like Russia" on Thursday, during his first public remarks since being confirmed as director of the spy agency.
Earlier this year, the intelligence community released a report concluding that the Russian government had hacked individuals and entities connected to the Democratic Party and worked with WikiLeaks to release damaging information to help then-candidate Donald Trump win the presidential election. Pompeo referenced the intelligence community's report on Thursday, but made no mention of Moscow's apparent preference for Trump over Democratic presidential nominee Hillary Clinton.
It is standard for the CIA to criticize WikiLeaks, but Pompeo's latest comments are at odds with his stance throughout last year's presidential campaign. Pompeo encouraged people to read WikiLeaks' first dump of hacked Democratic National Committee emails.
"Need further proof that the fix was in from Pres. Obama on down? BUSTED: 19,252 Emails from DNC Leaked by Wikileaks," he tweeted in July from his congressional account. The account, @RepMikePompeo, no longer exists.
During Pompeo's confirmation hearing in January, Sen. Angus King (I-Maine) confronted him about the tweet.
"Do you think WikiLeaks is a reliable source of information?" King asked.
"I do not," Pompeo responded. "I have never believed that WikiLeaks was a credible source of information."
Pressed on why he would tweet a link to WikiLeaks documents if he believed the source was not credible, Pompeo suggested he didn't remember the tweet. "I'd have to go back and take a look at that, Senator," he said.
After just six weeks on the job, Pompeo was forced to confront a WikiLeaks disclosure targeting the agency he now represents. The group published 9,000 files in March, detailing what it said were the tools the CIA uses to break into phones and communications apps.
Pompeo chose to speak publicly so early in his tenure as CIA director partly because he wants to raise the alarm on the threat posed by WikiLeaks, he said Thursday.
His sudden reversal on WikiLeaks mirrors the position of Trump, who praised the group's leaks until they targeted his administration.
"I love WikiLeaks," Trump told rallygoers last October, referring to a series of disclosures focused on Clinton's campaign.
That endorsement put Trump in an awkward position in March, when WikiLeaks targeted the CIA. White House press secretary Sean Spicer said at the time that Americans should be "outraged" by the leaks, but Trump stopped short of condemning the group.
Before You Go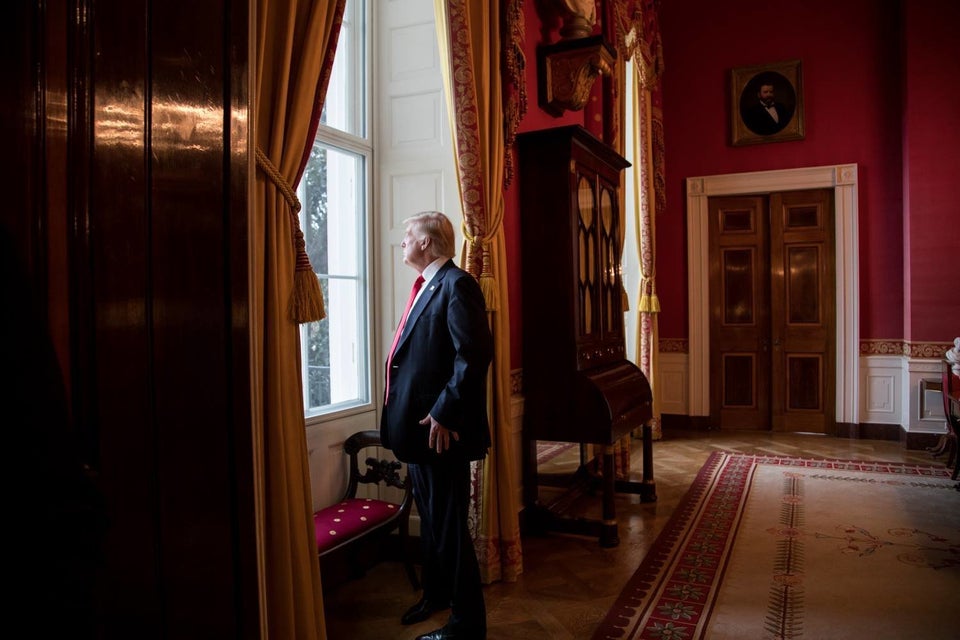 Trump's First 100 Days
Popular in the Community