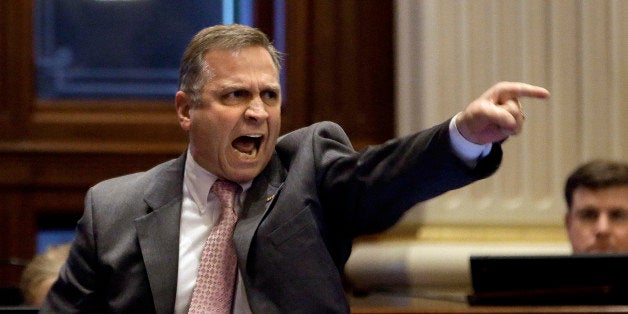 WASHINGTON -- Illinois state Rep. Mike Bost (R-Murphysboro) has made a name for himself throwing extraordinary tantrums during legislative sessions. But he doesn't appear to have contained his notorious temper to the statehouse, according to a review of court and police records obtained by The Huffington Post.
Bost, who is running for Congress this fall under the slogan "Passionate Leadership for Southern Illinois," has a lengthy history with local authorities, including some incidents that suggest "passionate" is a bit of an understatement.
The earliest episode dates back to 1986, when a neighborhood beagle named Rusty bit Bost's 4-year-old daughter. The report filed by animal control officials indicates that the girl provoked the attack by chasing the dog. She ultimately had to get 19 stitches on her face.
According to court records, Bost was displeased that authorities would not be able to deal with the 10-year-old dog immediately. So he got his handgun, drove to Rusty's owner's home, and shot the dog to death while it was penned in an enclosure.
Neighbors were "very alarmed and disturbed," according to the police report, but a jury eventually found Bost not guilty of breaking any laws. The local paper reported the case under the headline "Area man acquitted in dog killing trial."
The documents also detail another alarming, more mysterious incident. Bost, a gun-rights defender who in 2008 voted against a bill to require the prompt reporting of stolen guns, did not report a gun that was stolen from his own home.
In 2006, Bost's nickel-plated special edition .357 Rossi revolver was stolen from his gun safe. According to police records, Bost did not know about the theft until police showed up at his door to inform him that the gun had been used to threaten another man's life. Bost led investigators to the safe, and the firearm was indeed missing.
It is unclear who stole the weapon and how it was removed from the safe, but Bost and family members suspected that the thief may have been connected to a 17-year-old girl who had stayed briefly in Bost's house. Bost told police that he usually did not lock the side door to the room that contained the safe.
Other incidents found in the files are less distressing, but similarly portray Bost as an aggressive man whose actions often put him in conflict with others.
While Bost once felt justified in shooting a dog to death, in later years, he wasn't too worried about his own dog roaming the neighborhood. Local police records show that neighbors were so concerned about Bost's pet scampering around their homes and the local school that they called police at least four separate times.
Several people who encountered the lawmaker seem to have responded especially poorly to him, though the records do not indicate why. According to one report, in 1999 someone kicked in Bost's front door looking for him, but left when they encountered only his wife. Bost reported the incident to police. He also called the cops in 2009 after someone left a note on his car that was described as suspicious, along with a copy of the "Narcotics Anonymous" pamphlet.
Along with a fairly typical assortment of traffic tickets and moving violations, Bost was also involved in at least two car accidents. In a 1996 crash involving his red Beetle, Bost was found at fault for failing to yield to another motorist.
Bost's campaign did not respond to requests for comment, including questions about the stolen gun and what the string of incidents might say about the candidate.
Bost's outbursts are a regular hit on YouTube. Perhaps most notoriously, while railing in 2012 against what he saw as unfair floor procedures, he punched at a stack of papers that he had flung into the air. At the end of that rant, he compared Illinois Republicans and his constituents to biblical Jews in Egypt, hollering, "I feel like somebody trying to be released from Egypt! Let my people go!" And last spring, during debate on concealed carry rules, Bost smashed his microphone, prompting a Democrat to quip, "We don't want someone like that carrying a concealed weapon."
Democrats have sought to portray Bost, who is challenging Rep. Bill Enyart (D-Ill.), as a fundamentally unsound person whose volatile temper would only make Washington worse. So far, they've used his infamous outbursts in at least two ads, in which they dub Bost "Meltdown Mike."
Popular in the Community