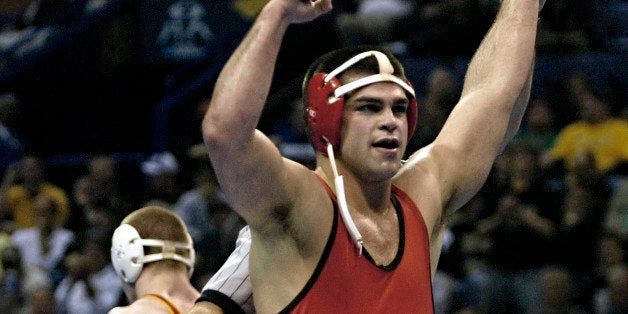 Pucillo, who was a three-time All-American and 2008 NCAA Division I Champion at Ohio State, recalled coming out as gay to his best friend and college teammate, Reece Humphrey, in the interview. According to the magazine, he is now the first openly gay Division I national champion wrestler.
"I've always known, I guess," Pucillo, who came out to his parents and friends just over a year ago, said. He hesitated coming out as an Ohio State competitor: "I wish I was able to be myself seven years ago while still competing in college, but it isn't until now that I am comfortable with myself to tell my story. I want people to know that you aren't alone. If I can just help one person get through, then I will be happy."
The 28-year-old Pucillo, who spent a year as an assistant coach at Ohio State in 2011, added: "I didn't need to make anyone feel uncomfortable in the locker room. ...There was a thought in my mind [that] people outside wrestling call it a gay sport and look at me, I'm the gay guy, they were right. Maybe there was that part of it."
He said he drew courage from the likes of fellow gay sports figures Michael Sam, Robbie Rogers and Dartmouth lacrosse All-American Andrew Goldstein before coming out, and hopes to do the same for other athletes.
"Choosing to come out as LGBT was not the easiest thing I have ever done, even harder than many of my own wrestling matches," Pucillo said in an email statement. "However, after hearing the story of a young wrestler who was encouraged by coaches not to come out and be true to himself, I knew that I could no longer sit by and stay quiet about my sexuality. Everyone deserves to be proud of who they are -- athletes and non-athletes alike."
Read the full Open Mat interview with Pucillo here.
Calling all HuffPost superfans!
Sign up for membership to become a founding member and help shape HuffPost's next chapter
BEFORE YOU GO
PHOTO GALLERY
LGBT Athletes