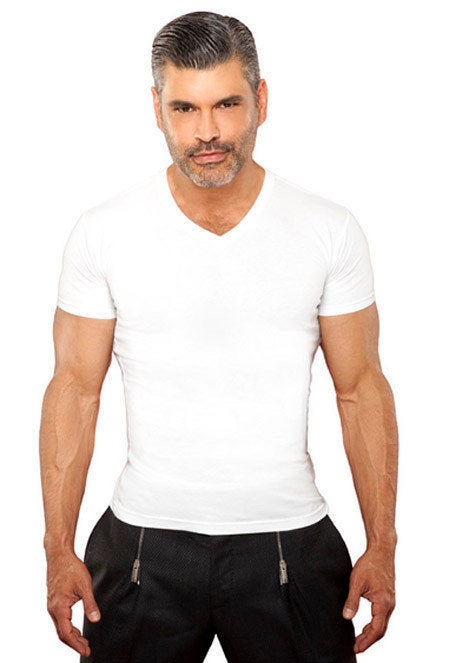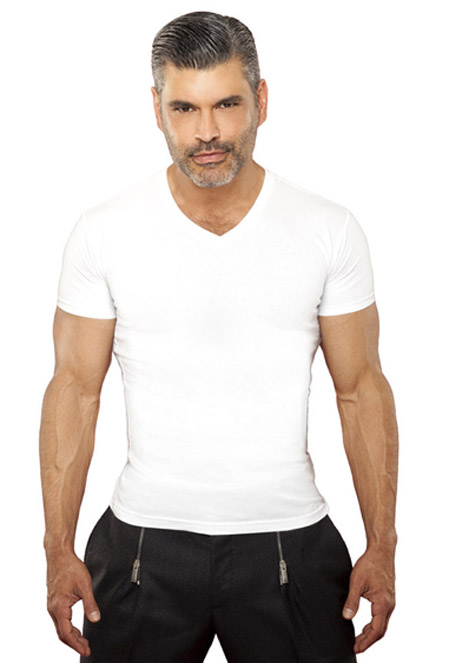 This week I talked with world-renowned photographer Mike Ruiz about his coffe-table bookPretty Masculine, which isnow available as an iPad app.
I first met Mike on the red carpet at the 2011 GLAAD Media Awards, during his run on the Logo reality show The A List. That same year he released Pretty Masculine, a collection of portraits that play with masculine and feminine imagery in order to deconstruct stereotypes and preconceived ideas about masculinity. All proceeds from the sale of the book benefit GMHC, the nation's oldest HIV/AIDS prevention, advocacy and care services provider.
The new Pretty Masculine app, like the book, is inclusive of the entire LGBT community. It is a whimsical, all-encompassing experience that allows users to witness the full scope of the creative process, including behind-the-scenes footage and interviews with the models, makeup artists, hairstylists and more. The app also allows users to upload a photo of themselves and apply a variety of elements, such as lighting and costuming, to "Pretty Maculine-ize" their image.
I talked with Mike about the new app, and about his spin on LGBT issues. When asked about his reaction to President Obama mentioning the LGBT community in his inaugural speech, he stated:
I burst into tears. I anticipated him including the LGBT community in his inaugural speech, because he has been very vocal about it, but, you know, actually hearing it in the content, in that form, and seeing all the people respond in a positive way was really overwhelming. It just made the whole thing so mainstream. You know, it made it like a civil rights movement that anyone who doesn't participate in is going to be on the wrong side of history, and that made me realize, "This is so awesome. This is a pivotal moment in history." I remember when Reagan wouldn't even acknowledge AIDS and HIV, you know, by allocating any funds to research. And now the president is including our community in his inaugural speech. It's really amazing and emotional, but it's really something we should be taking for granted. He shouldn't even have to be discussing this stuff. It's the same way with the civil rights movement. Everyone should have equal rights. It should be a given. It shouldn't be something that you should be so grateful to be acknowledged for. Once we're given any kind of rights, we have to give that person a medal. We deserve it. We're human beings. The short answer to your question is: I burst into tears.
Whether it's Kim Kardashian, Betty White, Nicki Minaj, Katy Perry or Prince, Mike has seen and shot them all. His work has appeared in Condé Nast Traveler, Elle, Interview, Paper, Flaunt, Vogue España, Vogue Brasil, Citizen K, Vanity Fair, Verve and other publications. Mike's keen eye and astute entrepreneurial skills have landed him positions in a wide array of fields. He founded Aardvark Aartists, an agency representing photographers, art directors and set designers. In 2012 Mike created a T-shirt line that helps raise awareness and funds for the Ali Forney Center, a shelter for homeless LGBT youth in New York City. He currently has an HIV/AIDS awareness PSA running on Logo, and he has teamed up with fashion designer J.Cheikh to create a line of red-carpet menswear.
Listen to more interviews with LGBTQ leaders, allies, and celebrities at OUTTAKE VOICES™.
Popular in the Community