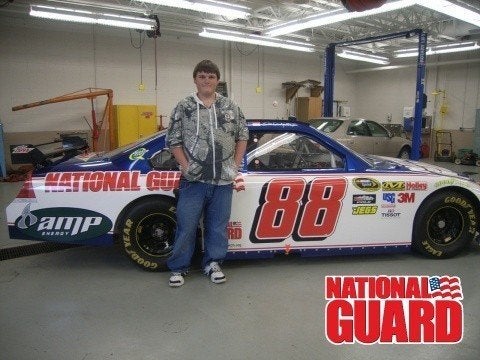 This prom season, Minnesota student Mike Stone is on a mission to bring a special lady to his high school dance: a porn star.
WARNING: SOME CONTENT MIGHT NOT BE SUITABLE FOR ALL AGES
The situation might call to mind scenes from the 2004 movie "The Girl Next Door," in which three teens take porn stars to prom as part of a plan to film a modern sex-ed video. But it seems this Minnesota student just wants to stand out on his special day.
After nearly 600 Tweets, at least two porn stars have offered to take Stone up on his offer.
Megan Piper, who never made it to her senior prom, said she'd be willing to attend the dance as long as Stone took care of the travel costs from Los Angeles.
"If you can get me there, then yes :)," she tweeted.
And adult film star Emy Reyes was honored by Stone's proposal and responded by saying, "Awww that's reappear [sic] hun and i would love tooo."
Piper said she's excited about the possibility of attending the dance with Stone.
"I thought it was really cute, and I thought it would make his night by saying 'yes'," she told The Huffington Post.
The 19-year-old moved from Georgia to Kansas during her senior year of high school and couldn't attend her own prom. She even had a navy dress with a corset top picked out for the occasion.
"It was so cute," she recalled. However, if she does fly to Minnesota, Piper says she's using the opportunity to shop for a new gown.
When asked about the possibility of Emy Reyes attending the dance, Piper said she was open to sharing the spotlight with her friend.
"If she decided she wanted to go, too, that would be really cool," Piper said.
As of a couple of hours ago, Stone, who says he's 18, did not have a PayPal account set up to receive donations, but that might soon change with the amount of exposure he's been getting.
As for Piper, the adult film star isn't keeping her boyfriend in the dark about her potential date.
"He knows I love him so he doesn't mind," she said.
Regardless of how Stone's plan pans out, he now joins the ranks of several teens who have taken extraordinary measures to secure a date to prom.
Related
Popular in the Community