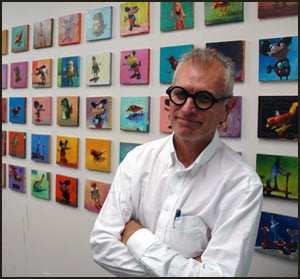 Higher-ed textbooks are expensive. $150 for a biology book? Believe it. Then multiply that cost (give or take a couple of bucks) by four or five classes per semester, and you might just bust your budget.
Given the expense, students tend to applaud any professor who cuts down on the number of required books. But Mike Tracy, an animation instructor at the Art Institute of California - Orange County, could lose his job for adopting such a stance.
According to CartoonBrew, Tracy, an 11-year veteran instructor at the school, didn't require his students to purchase an electronic textbook.
"I have used digital texts in other classes," Tracy explained to The Huffington Post in an email, "but my chief objection to selecting a text for this class is that there is no need for a text."
This didn't seem to sit well with administrators at the for-profit institution and, as a result, his job is in jeopardy.
"As you have previously been informed," reads a letter to Tracy from the school's president, Gregory Marick, "you are required to utilize an eBook from [a specified list]..."
"Failure to comply with this directive," the letter continues, "will result in your immediate termination of employment for insubordination."

Colleagues, Students and friends,

As many of you know, I have been in a dispute with our school, the Art Institutes, for some months now, over their policy of mandatory e textbooks in classes where their inclusion seems arbitrary, inappropriate and completely motivated by profit. In July I asked the US Department of Education, the California Bureau of Private Postsecondary Education and WASC (our accrediting agency) to look into my concerns. Since that time, the school and its parent company EDMC have escalated the pressure on me to select a book for a class I teach that I don't think requires one.

Today, the President of the school, Greg Marick, presented me with an ultimatum; either choose a book by Tuesday, Aug 14th or the company will terminate my employment for insubordination. My response, of course, is that I will not change my mind on this issue and that I'm determined to resist the policy however I can. I think this means that, as of this week, I will no longer be teaching at Ai...
Alarmed by the Facebook update, Justin Nouget, one of Tracy's students, launched a petition on Change.org requesting that the Art Institute reverse its stance on Tracy (and, by extension, mandatory textbooks).
As of this writing, the petition had 1,854 signatures out of a targeted 2,500, in addition to countless statements of support from former students and colleagues.
The Art Institute has not immediately returned requests for comment from The Huffington Post.
Popular in the Community