An abandoned mansion once owned by Mike Tyson will soon be a church of God, because America is a wonderful place.
Tyson lived in the sprawling, 58-acre estate in Southington, Ohio, in the 1980s and '90s when he was quite rich, but sold it in 1999 due to financial problems. Since then, it's been through several owners who never lived there, and it has gone into disrepair.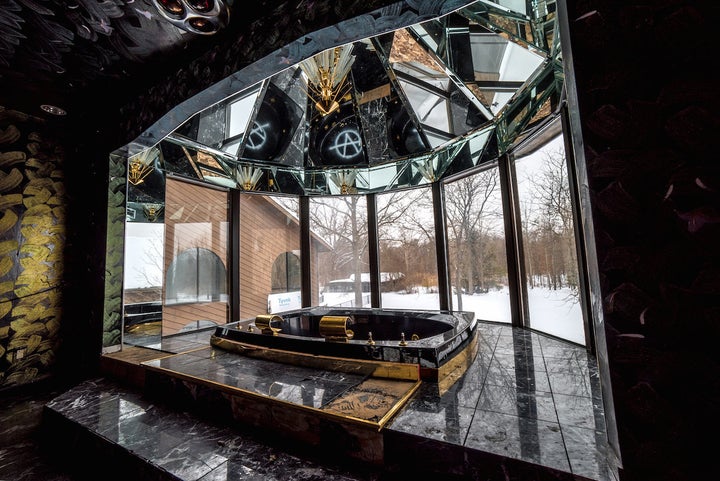 Photographer Johnny Joo explored the place before any renovations were made and told HuffPost it was weird being inside the former home of such a large personality as Tyson.
"It was just kind of weird knowing that he lived there, that he hung out there, that it was his house, where he would relax -- and then I was sitting there. So of course it gets you thinking about every room: What was this room used for, what was that room used for, what did he do here, you know?" Joo said.
As Joo wandered the 13,500-square-foot house -- where "everything is just scattered like a big maze" -- he photographed the foyer, spiraling stairs, pool room and huge bathroom, most of which were strewn with graffiti.
"I want people to get that surreal, eerie vibe off of it," Joo said, "but also that impression of, 'Why are we leaving all of this abandoned? Why is nobody caring? How do we not know that this is just sitting right here, right in front of our eyes?'"
The owners plan to completely renovate the mansion, leaving the original structure in place and using features such as the basketball court for picnics and vacation bible school events -- they've since filled in a boxing glove-shaped swimming pool, according to Joo.
"When we walked through this place, it just was amazing," Nick Dejacimo, a pastor at Living Word Sanctuary, said in an interview with Joo. "When we went through the entire place and got to where the pool is, we could just easily envision what a beautiful sanctuary [it could be]... How we stumbled upon the place was really God's grace."
Walk through it with Joo's photographs below: