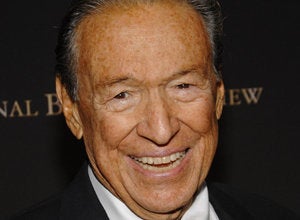 "What are the four most dreaded words in the English language? Mike Wallace is here." So read an ad that once hung on a wall in Mike's office, overlooking the Hudson River. Mike commanded attention, whether seated quietly at his desk or gracefully walking the hollowed halls of the 60 Minutes' offices on New York's West Side.

60 Minutes was created by the late great Don Hewitt, its brilliant and tirelessly energetic executive producer. He asked the late Harry Reasoner, a superb broadcast writer, and Mike Wallace, a demanding interviewer, to anchor the program. 60 Minutes is one of the greatest television programs of all time. The broadcast has finished the season first in the television ratings five times, and it has finished among the season's top 10 programs 23 times.

Since its inception, its quality story-telling and fiercely competitive spirit has characterized 60 Minutes. And working for the powerful 60 Minutes brand name over the years were legendary journalists like, Morley Safer, Ed Bradley, Diane Sawyer, Dan Rather, Andy Rooney, Lesley Stahl, Steve Kroft, as well as Harry Reasoner and Mike Wallace.

Mike was a perfect fit for 60 Minutes. His hard-hitting approach to investigative journalism and take-no-prisoners interviewing style helped define the program in its early years. And Mike conducted his interviews, legends, movie stars and crooks, with the same intensity. He would say, "I'm just nosy." But really he was totally driven to be first with the story. He once said, "There is no such thing as an indiscreet question."

Mike was persistent, direct and brash when asking questions of his interview subjects. In 1979, Mike asked the Ayatollah Khomeini, in an interview with the Iranian leader in Iran, to respond to being called a "lunatic" by then Egyptian President Anwar Sadat. The visibly angry Ayatollah responded that Sadat "compromises with his enemies."

During his career, Mike interviewed Presidents Kennedy, Johnson, Nixon, Ford, Carter, Reagan, Bush senior and Clinton. He interviewed world leaders including Putin, Deng Xiaoping, Begin, Arafat and Meir. He interviewed stars like Streisand, Carson and Horowitz. He interviewed the Reverend Martin Luther King and Malcolm X.
Mike was a fighter as a correspondent. He would fight with his colleagues over a hot story assignment, he would loudly argue with Hewitt over the structure of his magazine piece, and he would take on management when they wanted to change an adjective in his script. Good reason and common sense prevailed most of the time. But not everyone he dealt with was a fan. Nonetheless, I found him to be wise, inspirational and personally supportive.

In 1982, CBS aired a documentary, The Uncounted Enemy: A Vietnam Deception. The documentary alleged that U.S. Army General William Westmoreland deliberately underestimated the enemy's troop strength to win American's continuing support for the war. Westmoreland sued Mike and CBS for $120 million. During the bitter trial Mike was hospitalized for depression. In the end, Westmoreland settled the suit with CBS.

The fact is that beneath that tough exterior, Mike Wallace continued to struggle with depression after the Westmoreland trial. Speaking of depression, he once said, "You feel lower than a snake's belly." He first publicly admitted he attempted suicide in an interview with his friend and colleague Morley Safer. He credited his wife Mary Wallace with having saved his life.

Later he spoke out more freely about his struggles with depression in hopes of ending the stigma that is associated with mental illness. He was honored by many leading mental health organizations, including the Mental Health Association of New York City, for having the courage to go public so that others may learn.

"For people who are contemplating suicide, contemplate, who are so damn scared and in pain and all of those things are true when you're in a bad clinical depression." Mike once said in an interview on WLIW-TV. "Take a look at me, that what I've learned is that because I was saved I had 20 more years of very productive life."

Mike Wallace retired from 60 Minutes on March 14, 2006, nearly 38 years after he helped launch the program. In June 2008 Mike's son Chris Wallace, anchor of Fox News Sunday, announced his father would not be returning to television, some 68 years after he made his network radio debut on WXYZ Detroit. During Mike's amazing career he won 21 Emmys, five DuPont-Columbia Awards and five Peabody Awards. He also won the Robert F. Kennedy Journalism Award in 1996. And in 1991, he was inducted into the Television Academy Hall of Fame.

In 1997 Mike told People magazine, "Do I have regrets? No. What good would regrets do now? Would I do things differently? Yes, but I wasn't wise enough at the time. Life is full of decisions, isn't it? And I've made some of the right ones and some of the wrong ones, but I made the right choices for me. Now that may sound selfish, but that's being honest."