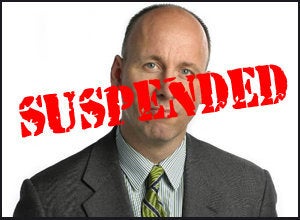 Washington Post sports columnist Mike Wise has been suspended from the newspaper for one month over a "horrendous mistake" he made on Twitter.
On Monday, Wise tweeted that suspended Pittsburgh Steelers quarterback Ben Roethlisberger would be suspended for five games instead of the six games he had initially been suspended for.
"Roethlisberger will get five games, I'm told," Wise tweeted.
However, Wise made that up in an attempt, he said, to see which news outlets would pick up his report. In other words, it was a hoax (and several outlets, including the Miami Herald and ProFootballTalk, picked it up).
"As part of a bit on my show today, I tried to test the accuracy of social media reporting. Probably not the best way to go about experiment," he tweeted. "But in the end, it proved two things: 1. I was right about nobody checking facts or sourcing and 2. I'm an idiot. Apologies to all involved," he added.
On his radio show Tuesday, Wise said that he had been suspended from the Washington Post over the hoax.
"My bosses at the Post feel I need a month to think about the severity of my actions," Wise said, according to FanHouse. "I tried to showcase the absurdity of bad journalism," Wise said. "I could give you 10 reasons why I did this and what went wrong in the execution. I made a horrendous mistake, using my Twitter account that identifies me as a Washington Post columnist. "
"Mike did not follow our guidelines and has since apologized for it," the Washington Post said in a statement to the Huffington Post. "We take these matters very seriously; however, we do not discuss personnel issues."
"Seems overly harsh to me," Washington Post media writer Howard Kurtz tweeted in response to the punishment.
Related
Popular in the Community