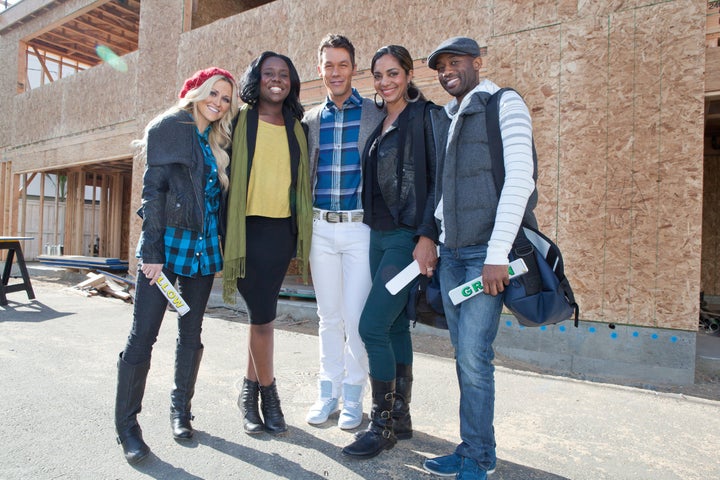 Show judge Vern Yip says this season may just be the most diverse one yet for the series, with three African-American designers making the final four.
"It's tremendously huge to have three African-American designers in the top four," Yip told The Huffington Post. "The designers who ended up being in the final four are there because they rose to the occasion time and time again."
He added that the diverse ethnic backgrounds of Welch, Danielle Colding and Hilari Younger are undoubtedly what got them there. "We're always looking for different perspectives, for people who bring something different to the table. The world is becoming an increasing diverse place; the U.S. is becoming an increasingly diverse country and we always want to reflect that," Yip said.
From the famous white-box challenge contestants faced in the season's second episode to creating a fantasy lounge for Hollywood's 125th birthday bash, Yip says this season was filled with shining moments from each one of the final four, including Welch.
Though he was eliminated during episode seven, HuffPost recently spoke with Welch about his experience on "Design Star," how he got there and what he has lined up next.
On how necessary design school is...
I think design is something that is a God-given talent. Textbooks can teach you technical things like how many inches a coffee table should be from the sofa, but in terms of design, either you have it or you don't.
On the moment he knew he'd be picked for the show...
I knew that the likelihood of there being several African-American males on the show was going to be slim. So I knew at the final audition there were probably two Mikel's and they were trying to decide which one of us they were going to take.
On avoiding reality-show drama...
With reality TV you have so many shows out now that portray African Americans in such a negative light and we just came together, Danielle, Hilari and I, and stated from the beginning that we did not want to do that. We wanted to give African Americans strong role models that people could actually look up to in the filed of design. We're all very talented, obviously to have made it that far, so we just wanted to make sure that we weren't catty toward each other, we weren't bickering, we just didn't want to be that negative African-American presence that you see on television.
On the biggest barriers African-American designers face breaking in...
To America, there aren't that many African-American designers, and people have these preconceived notions that if you're an African-American designer everything you put in a room is going to be "ethnic." So they're assuming there's going to be kente cloth and you're going to have a picture of Martin Luther King Jr. hanging on the wall.
For African-American males it's even harder. For me to say I want to become an interior designer, the stigma that comes behind it ... I'm gay, but there are a lot of men who aren't gay and they may be black and want to become an interior designers, but there's a negative connotation there.
A lot of the time it has to do with your level of exposure. People pre-judge you and they just assume that the level of taste is just not there. They assume that you just haven't been exposed to certain areas of design.
It's difficult, but I've never been one to let that stop me. At Morehouse, one of the things they always taught us was to never let race be a factor.
On his proudest moment on the show...
Episode 4 I'm most proud of because it was a homeowner challenge and we listened to every single thing that that homeowner asked and we gave them that. As an interior designer, one of the hardest things to do is to interpret someone else's vision. I really think we hit it spot on. I like that room the best out of any room on "Design Star"!
On getting booted in the final four...
It was my time to leave and when God tells me to go, I know it's time to go and I was happy with it. I look at "American Idol" -- Jennifer Hudson didn't win, but she's doing just fine!
On what's lined up next...
I just accepted a job as art director on Steve Harvey's new talk show, so I'm in Chicago right now! I have to do a nine-month run for season one with them and then if season two gets picked up, we'll renegotiate that.
PHOTOS: Highlights from "Design Star" season 7.
PHOTO GALLERY
"Design Star" Season 7 Highlights
Calling all HuffPost superfans!
Sign up for membership to become a founding member and help shape HuffPost's next chapter