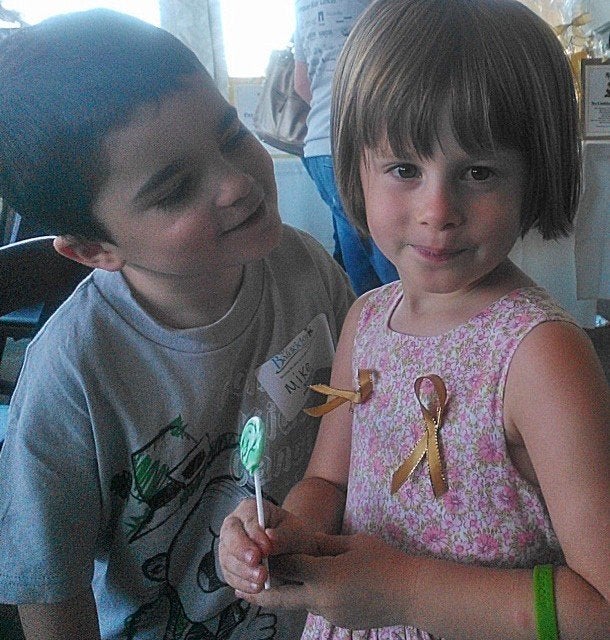 When the evacuation order came, the Lograno-Weinstein family began packing. Ten-year-old Katie brought a flashlight, her pillow pet and a "real" book, since her Kindle wouldn't work in the expected power outage. Two-year-old Timmy wanted a Judy Moody movie and his blankie. And 6-year-old Michael gathered his stuffed Sesame Street toys, while his mother, Chrissie, collected his medications.
There was the Depacote to prevent seizures and the Diazepam to shorten them. Risperdal to calm Mikey when he gets agitated. Zofran to battle the nausea from the tumors. Numbing cream for his mediport, just in case paramedics needed rapid access.
That done, the family drove away from Rockaway, in Queens, N.Y., and headed for Chrissie's father's house in New Jersey to ride out the storm.
They won't be moving back home any time soon.
Sandy walloped homes and psyches across the northeast last week, but some punches fell with more force than others. For parents like Matt and Chrissie Lograno-Weinstein, who were feeling vulnerable and under siege long before this storm even formed, Sandy came as a final blow and brought added danger.
The Lograno-Weinstein family's hurricane tale began four years ago, when the family was living in Florida and Mikey woke up from a nap one morning with his left eye turned inward. A trip to the pediatrician led to an emergency visit to an opthamologist who sent them to the local ER, where they were put in an ambulance and rushed two hours away to St. Petersburg. Two weeks and four surgeries later, the family moved to New York and into Chrissie's childhood home, which is blocks away from the water and within an easy drive of Sloan-Kettering Cancer Center. Mikey's diagnosis has always been "unclassifiable leptomeningial tumors," which means he has tumors in his brain and spine, but none of the many tests he's had can identify exactly what kind of tumors they are.
In a long, sad telephone interview yesterday, Chrissie said that moving home is what kept her going through years of treatment that have, so far, held the cancer at bay but robbed Mikey of the ability to walk and left him with developmental delays. During the first surgeries in Florida, she remembers, "I just kept saying 'I want to go home, I want to bring him home,' and what I meant was home back in Rockaway. Surgery after surgery, night after night, all I wanted to do was be there."
"I spent 36 Christmases and Thanksgivings in that house," she continued. "My parents brought me there to live when I was two months old. It's a real community, where everyone knows everyone else. Our neighbors and friends embraced Mikey. They embraced all of us. I couldn't have gotten through the past few years without them."
The Lograno-Weinsteins were sheltered at Chrissie's father's house in Holmdel, N.J., last Monday night, where the power soon went out. In the darkness, their cellphones brought them news of their beloved neighborhood under seige.
"We knew there were fires on Breezy Point, we knew there were fires on Beach 129th. We didn't know exactly what was burning, but that's where our church and our school were," Chrissie remembers. There were messages, 'Oh God the water is coming up fast, it's on my first floor.' It was as frightening hearing what our friends who stayed were going through as it was hearing the wind and worrying about a tree coming down in New Jersey."
When they went back a few days later, their eight feet of basement was still filled with murky water that reached about three feet into the first floor. When Mikey's Sesame Street puppets floated by, his grandmother broke down and cried. All around them, homes were destroyed or uninhabitable. Theirs was given a yellow tag by the building department, meaning "restricted use, needs further inspection." Many of their neighbors' homes were flagged red.
The weekend after the storm, the Lograno-Weinsteins headed north to Cornwall, N.Y. and moved in with Matt's mother. On Tuesday, Katie began public school there. Other Rockaway families are heading for Brooklyn, Chrissie said, "but we need to be somewhere where there's someone around in case I need to run Mike to the hospital."
Timmy, she wrote on her Caringbridge page, is "lucky" because "he doesn't get it." Mikey understands more and "he's upset. He keeps asking to go home to Rockaway," she wrote. It is Katie who worries her most, because she is the only one who remembers the times before cancer, before she was yanked out of one life and plopped into another. "Poor Katie was in school on a Friday in Florida and then in Rockaway on Monday when Mikey got sick," Chrissie wrote. "We had to get rid of so much in that move and now, she's displaced overnight and we've lost so much again."
"Yes, we need it," she says, "but so many families need help as much as we do. I know our situation is difficult because of Michael. But we are just one of thousands of families."
Her family faced Sandy already battle-scarred, she agrees, but so did her neighborhood. "We as a community have been through so much ," she said. "So many of the people lost on 9/11 were from here. Then Flight 587 crashed here a month later. We have rebuilt before, but..."
She didn't finish the sentence.