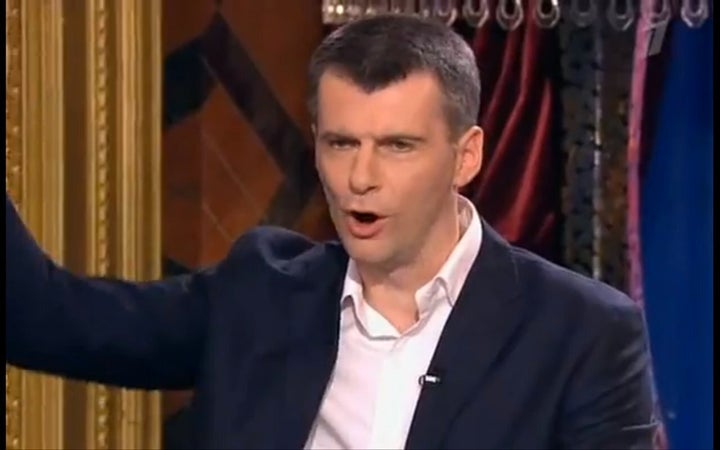 Putin celebrates his 60 birthday this year, which makes him 66 by the time his current presidential term is over. Hence it is probable that this is Putin's last term... The second leader of the election -- Gennady Zyuganov -- is a communist and has close to zero support and popularity from the upcoming generation of voters, so he is out of luck in the next elections. The only real candidate on the horizon at the moment is Prokhorov -- young, educated, obviously successful and smart.
With the Russian elections over it is time to reexamine Putin's strongest opponent. Though Mikhail Prokhorov carried only 8 percent of the popular vote, he is a charismatic figure both in Moscow and the West.   During the recent election, rumors circulated that Prokhorov was brought into the election by Putin in order to create the impression of a real opposition and hence a fair election.
He is a businessman with a successful track record of building and developing businesses. He is famous in the Russian press as a man of commerce yet to make the first mistake in his flawless career. He is the third richest man in Russia and appears on this year's Forbes list as having a net worth of 13.2 billion. He made his fortune mainly during the years of managing and then owning of Norilsk Nickel together with his partner and friend for decades Vladimir Potanin. After selling his part of shares of Norilsk Nickel Mikhail got involved in the alternative technology space -- nanotechnology and hydrogen energy.
His life credo "money likes quiet" might be not in line with his latest aspiration to become a loud political figure in the face of Putin. He is certainly risking the same fate of Mikhail Khodorkovsky, who in 2004 was the wealthiest man in Russia and one of the richest people in the world, ranking 16th on Forbes list of billionaires, and now has spent more than a decade in prison for becoming Putin's opposition.
In the Russian press Prokhorov is often referred to as an American agent who promotes pro-western and anti-Russian policies. His latest affiliations with Jay Z, buying the Nets and furthermore building a new Nets stadium in New York only promote the idea in Russia that he is pro-American. His Jewish ancestry is also raising eyebrows. According to a profile in the New York Times, his maternal grandmother, Anna Belkina, was a prominent Jewish microbiologist who made vaccines during World War II.
On one hand he is a remarkably successful businessman with political aspirations. On the other hand he has a reputation of being surrounded by middle school drop-outs and models. The biggest scandal, which happened in 2007 when Mikhail and his friends were arrested in Courchevel in French Alps, will not be forgotten in a long time.  In the Russian media this scandal was so big that "Courchevel Scandal" has its own wiki page in Russian. This combination is impossible for any politician especially one who is still establishing himself.  
Is Prokhorov a successful international businessman, an up and coming pro-American Russian politician or an agent of Putin? Only time will tell. But one thing is certain: He is a charismatic businessman and a politician worth watching.
Calling all HuffPost superfans!
Sign up for membership to become a founding member and help shape HuffPost's next chapter