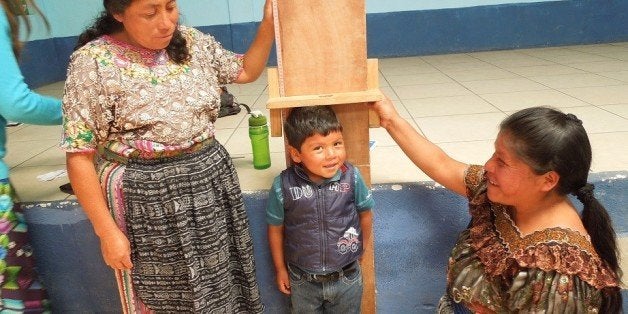 During a visit to Guatemala 10 years ago, the majestic scenery of Lake Atitlan, and the warm Maya people, beckoned me to return someday.
When I did -- the following year, and the year after that -- it changed my life. Volunteering at a school for child workers in the lakeside town of Panajachel, I saw a safe haven for children who otherwise had none, but was bereft of books and supplies. I returned the next year with suitcases full of them.
But while I had my own ideas about what to do, it soon became clear that locals better understood the challenges these students faced. "Feed the children," they told me. "They are starving."
US AID reports that only 40 percent of children in Guatemala complete sixth grade and 50 percent of children suffer from chronic malnutrition, the fourth highest rate in the world. As many as 80 percent of Maya children living in rural communities are malnourished, condemning them to a life of learning challenges and putting them at high risk for chronic diseases such as diabetes and hypertension.
That year, I returned to Boston with dozens of brightly colored "friendship bracelets" to sell, and raised enough money to start a breakfast program for all 160 students at that school in Panajachel. Attendance improved dramatically, as nearly all the children began to attend school regularly so they could eat.
Encouraged, I began thinking about how to replicate that success, and in 2007, Mil Milagros, or "A Thousand Miracles," was born. "Milagros" means "miracles," which I believed were essential to achieving my goals; "Mil" signifies alignment with the United Nations' Millennium Development Goals - particularly those focused on the eradication of hunger and poverty and universal primary education.
My plan was simple. I would raise funds in the U.S. to feed children and partner with schools in Guatemala; attendance would improve, and more children would complete sixth grade.
Our first initiative was a hot lunch program: one at the school in Panajachel, and another at a small public school in the mountains. We taught mothers there to use locally grown foods to create nourishing meals, and worked with the schools to promote hand washing, the proper use of toilet paper, and teeth brushing. The program proved successful when the children began bringing firewood and their own dishes to school, while the dads helped with kitchen and bathroom construction.
In 2011, I received a call from Johnson & Johnson that would take our efforts to the next level. Thanks to a grant for $15,000, Mil Milagros was able to partner with the community of Xecotoj and implement a health and hygiene program in an effort to prevent illness and improve school attendance. This program helped train 30 mother and grandmother volunteers to make nourishing meals for 75 children each school day.
Today, with Johnson & Johnson's partnership and support, we also feed nearly 1,000 children in six schools in the Department of Sololá, Guatemala, where 94 percent of the population lives on less than $3.00 per day. We invest $1.00 per child per day: lunch costs $0.75 and the remaining $0.25 goes toward health and hygiene care, a textbook, and school supplies. Over 450 mothers and grandmothers volunteer to make the children's meals. We have installed a database in each school to track the children's heights, weights, attendance, grade promotions and health interventions.
Last year, 98 percent of the sixth graders supported by Mil Milagros graduated from primary school -- more than double the national average. In 2011, 95 percent did. In the communities where we first launched our program to prevent child malnutrition, key malnutrition measures have declined by over 50 percent.
Meanwhile, our momentum has allowed us to form partnerships with other non-profit organizations. We are working with Wuqu' Kawoq, a health care NGO, in an effort to prevent malnutrition in babies and address women's health in each of our partner communities. We will also launch a partnership in 2014 with Boston University Goldman School of Dental Medicine to provide dental care to all of our children. By 2020, we hope to serve 10,000 children with nourishing meals, hygiene care, and education. Eventually, we hope to eradicate malnutrition for all 100,000 children in the Department of Sololá.
We are planting the seeds for a movement to ensure that every child in Guatemala has the opportunity to graduate from sixth grade healthy, literate and prepared to continue their education. Will you join us?