When it comes to lovebirds Ashton Kutcher and Mila Kunis, life has always imitated art. The two might've played a couple on the long-running sitcom "That '70s Show," but it wasn't until they starred in separate romantic comedies about casual sex among friends that their connection came full circle. 
"We, oddly, both did a movie called — I did 'Friends With Benefits,' he did a movie called 'No Strings Attached,'" Kunis told Howard Stern in a revealing interview on Tuesday. "If we just paid attention to these movies, we should know that shit like this does not work out in real life. Well, we clearly didn't pay attention. We shook hands, we're like, 'Let's just have fun!' I mean, literally, we lived out our movies. We literally just had a very open conversation."
Kunis made sure to emphasize that their relationship was completely platonic during "That '70s Show," as she was only 14 when the series started filming. They were, however, required to share some romantic moments, but the "Bad Moms" actor somehow remained unfazed. 
"I never looked at him as somebody that was good-looking, I never looked at him as somebody that wasn't," she explained.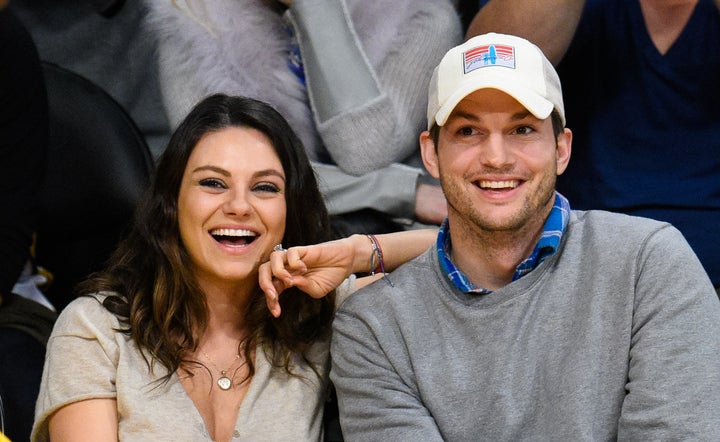 After Kutcher split from wife Demi Moore in 2011 and the end of Kunis' long-term relationship with actor Macaulay Culkin, the two found themselves drawn to each other at an award show.  
"So I see this guy and I see his back and he's really tall," Kunis told the radio host. "And then [Kutcher] just turns around and it was literally like if we were in a movie, the music would start playing ... I think that he, for the first time ever, took my breath away."
One night at Kutcher's housewarming party, they acted on an attraction years in the making, as Kunis admitted to Stern that she "didn't leave till the next morning." The two then entered into a casual relationship much like their on-screen rom-com counterparts. But after three months of friends-with-benefitting, Kunis recalled wanting a few more strings attached. You know how the rest of the story goes. 
"I think we had to both go through a lot in our lives to be the become the people that we were," she added. "We would never be together based on the people that we used to be."
Calling all HuffPost superfans!
Sign up for membership to become a founding member and help shape HuffPost's next chapter
BEFORE YOU GO
PHOTO GALLERY
Ashton Kutcher and Mila Kunis