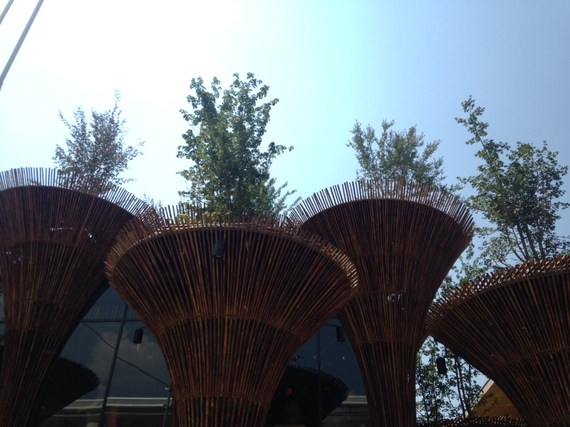 After visiting many former expo and fair sites around the world - shells of the excitement that surrounded them at the time - I entered the Milan Expo excited to see the live and bubbling version of this age-old tradition. This Expo's theme is "Feeding the Planet, Energy for Life" and the site is about thirty minutes by train from the center of Milan. If it is your dream to visit an expo, here are my suggestions as to what to hit and what to miss!
For Starters: A Few Tips
• Buy your tickets online ahead of time - http://www.expo2015.org/en/tickets
• Bring a water bottle! The only free product at the Expo is water from water fountains
scattered around the Expo.
• Easy bathroom access is in the Eataly Pavilion.
• Bring a fan - it is hot.
• Take Euros - most places don't take credit cards.
• Consult the app and map before your visit to create a list of your must-sees.
• The air-conditioned pavilions provide a welcome respite from the heat.
• Expect airport-like security lines at the entrance.
Disclosure: The day I visited was 96 degrees in the shade and very humid, so I did not visit every pavilion.
Best Music: Sierra Leone, Cameroon, and Timor-Leste
These three African Pavilions are small and airy with sparse decorations - and the happiest music! If you need to perk up from the droopy midday heat, dance away your troubles and tiredness in these three Pavilions where roaring African music greets and draws you in.
Best Aroma: Bangladesh and Laos
Follow your nose to these two Pavilions where the tantalizing smell of curry and rice flows through the open doors. Enjoy a light lunch or simply stand and take in the spicy perfume of a good curry.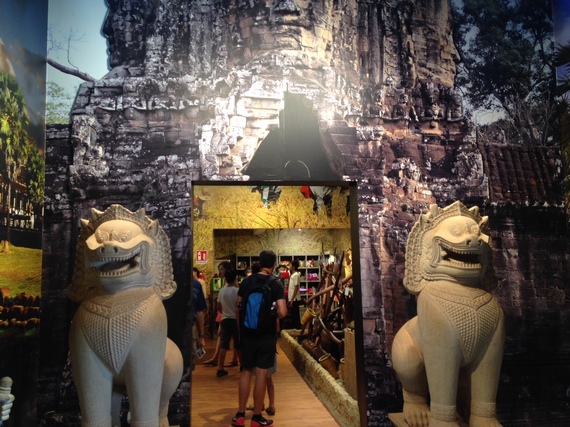 Most Interesting Cultural Expression: Cambodia
In the Cambodian Pavilion, tall statues from Cambodian culture, a full ox cart, staff dressed in Cambodian clothing, and little cases of Cambodian items welcome visitors. While many countries miss the mark on authentic cultural expression, Cambodia hits a bullseye.
Best Cinematography: Ireland and Gabon
Ireland's Pavilion features a series of large screens adorned with hazy landscapes morphing into cloudy sheep in long fields and then into explanations on the country's food economy. Gabon's cinematography is much simpler with animated monkeys amidst stretching rainforests.
Longest Lines: Nepal, Colombia, and Kazakhstan
I did not visit these three Pavilions due to the long lines in the stifling heat. While I am unsure of the hidden wonders in the Colombian Pavilion, I know that the Kazakhstan Pavilion features a 3D theater and the Nepalese Pavilion is a lovely red and gold pagoda with a giant Buddha in a coin littered pond under the pagoda - which can also be seen without braving the lines.
Most Refreshing Drink: Domori Crema Cacao
Venture outside the Cuban Pavilion to find the Domori cart and buy a cup of this ambrosial, cold chocolate. The drink takes on a slightly thicker consistency than an American slushie or Italian granita with a richer and fuller flavor.
Best Bazaar: Yemen
The Yemen Pavilion took the form of a bazaar crowded with Yemeni goods, smiling salespeople, and women offering henna tattoos. This Pavilion was an interesting experience paralleling many of the Middle-Eastern, African, and Asian bazaars that I have visited!
Loneliest: North Korea
Tucked away in an obscure corner of the Expo next to the Maldives, North Korea contains propaganda postcards for sale and women in traditional, bright North Korean costumes with intricately painted and made up faces; on the other hand, South Korea is on the main street with a massive pavilion and stream of visitors.
Most Unique External Design: U.K. and Hungary
These two buildings stand tall and proud next to each other. The British Pavilion consists of a lovely silver "hive" structure glinting in the sunlight - reflecting the U.K.'s pavilion theme of the role of honeybees and the role of U.K. as a "hive of innovation" - while the Hungarian Pavilion takes the shape of a "shamanic drum" in reflection of Hungarian culture.
Best Sustainability Exhibit: Slovenia
Slovenia, one of my favorite countries, also proved to be one of my favorite pavilions. With the mottos "Slovenia is the only country with LOVE in the title" and, "I feel sLOVEnia," the Slovenian Pavilion features five sectors on its exports and major innovations and how they reach for sustainability through these five sectors. A few of the sectors include: thermal and mineral water, Slovenian salt, honey-making, green innovations, active lifestyle promotion, and a great restaurant with my favorite Slovenian soda - Cockta.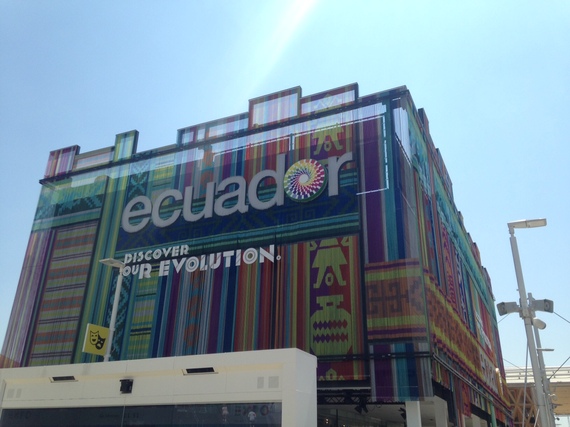 Most Colorful: Ecuador
This Pavilion is a fabulous rainbow of color and appears as if it is covered in a giant vivid quilt. And who couldn't love the giant blue-footed boobie fronting the building?
Best Humanitarian Exhibit and Artwork: Holy See
The Vatican Museum loaned a stunning Tintoretto painting to the Pavilion which I loved viewing. But more striking than the five hundred year old piece of art are the videos and pictures showing the plight of hunger that afflict millions of people around the world, the excessive waste of the modern world amidst this poverty, and the message that every person can make a difference through action; Pope Francis put his humanitarian stamp on this exhibit.
Most Disappointing: United States Food Trucks
When I heard that the U.S. exhibit would be presenting the best of authentic American food trucks, I envisioned the fabulous, unique, bright trucks that reflect the owners' creativity and that ply the roads of the U.S. serving innovative fare - especially those utilizing organic produce and sustainable techniques. Unfortunately, the U.S. Food Trucks at the Expo are instead new steel trucks painted monochromatic grey with blue or red spots, serving basic foods: hot dogs, soda, hamburgers, pizza, packets of chips - an overall stereotypical, boring, unhealthy, and unsustainable view of American fare.
Best Place to Cool Off: Czech Republic
Outside the Czech Pavilion is a blue statue of a bird - which morphs into a car in its back half - spurting water into a pool where children jump into inner tubes and float around.
My Overall Favorite: Holland
This Pavilion created a miniature carnival with the innovative and fun food trucks the U.S. lacked while blaring happy music and featuring authentic, creative Dutch food - much of which I recognized after my recent trip there (http://huff.to/1Iqw6eb). Highlights were a little river with plastic cows sprouting from it, huge orange reclining pillows, a hall of mirrors, and a restaurant built around a Ferris wheel, all scattered amidst large signs about what needs to be done to change food production for the better - overall, flamboyantly fabulous and authentically Dutch.
My Final Thoughts
One hundred years ago, a world fair or expo was a state of the art way to bring people together and spread new technology and information. Now, with the Internet, anyone from Dubai to Baton Rouge can look up innovations and ideas in the blink of an eye. I expected to be educated on sustainability and on the agricultural innovations that are changing the world's farming processes and cutting down hunger and malnutrition. While there was some information on how different countries are approaching the production of food and improving nourishment while taking care of our natural resources, that seemed like a side act to tourist information, country items for sale, and food for purchase.
I left wondering why so many countries - many very poor with starving citizens - would make the large investment to be present at what seems like a giant, glitzy tourist information show.