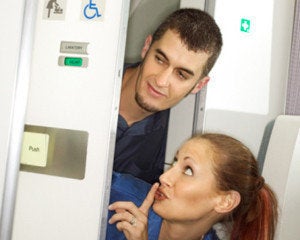 Who knew flying was so...hot?
It's already been revealed that Virgin Atlantic's flight attendants are the most attractive in the industry, but who knew the rest of the flying public had such a good chance at getting lucky?
A recent survey of 1,000 people by U.K. company Skyscanner revealed that 45% of fliers admit to flirting mid-air, with 8% forming relationships post-landing.
Perhaps the most interesting statistic showed that a whopping 95% of travelers wanted to be part of the infamous Mile High Club--and a sad 6% of men said that the act was their ideal Valentine's Day gift. For those counting, 20% of travelers claim to have joined the prestigious club (and roughly half have done so with a planemate).
Skyscanner employee Karin Noble, a former flight attendant said:
"More and more people are now traveling by air so it's no surprise that flights have become a place to flirt. After all, you are sitting next to someone for an hour or more, and the fact that you're both traveling to the same place means you already have something in common. Add this to the heightened effect that alcohol can have at altitude and the more relaxed 'holiday mood' that many travelers feel, and it tends to give people the courage to flirt with a fellow passenger or even take things further, especially on long haul routes such as flights to Australia."
What do you think? Do you flirt on planes? Or have you, um, got it on in the bathroom? Check out our poll below.