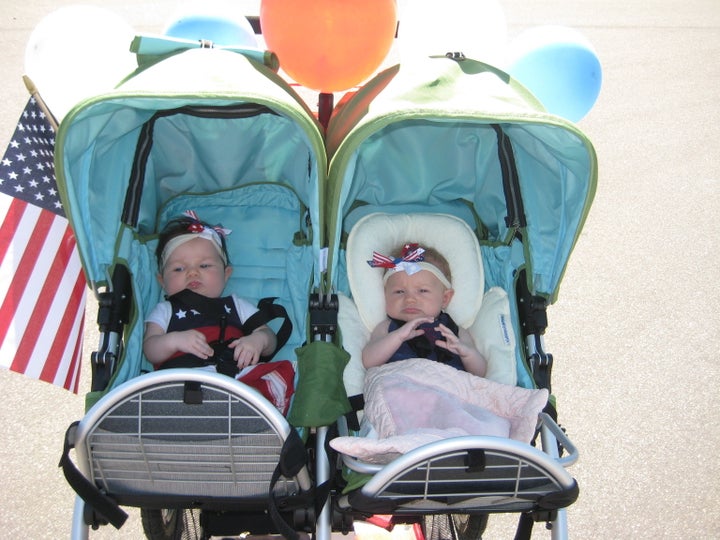 There is just no dignity when you are pushing a double stroller. The kind gestures and open doors you get when you are pregnant? Those completely disappear when you are trying to squeeze this monstrosity through a swinging door, with two other children in tow. I always felt as though I could exchange that thing for a shopping cart of my belongings in trashbags and the level of disdain from the general public would be about the same. The world is not kind to the double stroller dependent. Being untethered from this thing feels like a new level of freedom. I'm walking a little taller now. Literally.
She gave into that stroller in the first place because it was the only way to manage the logistical puzzle that is four children joining one family within four years. (For the record, she gave into the minivan almost two years ago, for the same reason...) There was no regret in the stroller good-bye writes Howerton, and I believe her because she is a Marriage and Family Therapist and probably particularly in touch with her feelings.
But how many of us, at moments like these, do have emotions that are more than a little mixed?
I remember the first time I left the house without a diaper bag; just me, a child, and a destination. But what I don't remember was the last time I did bring those things along. If I had realized it would never happen again, would I have savored or celebrated? It was a door closing for good, a step further along the road to when they leave us, and even if you hated opening that darn door every single day, over and over again, it's still a measure of something when it slams shut.
As I have written before over the years, the firsts are momentous, but the lasts fade away without fanfare. "When was the last time I picked up my son and carried him? " I wondered last fall, after my last "back to school night." "There had to have been a last time. Had I known, I would have paid more attention."
Raising a child is a parade of these mini-milestones. The first time they ask for privacy in the bathroom, or finish a meal without spilling a thing, or get dressed completely "by self" for school, or reach the doorknob or the light switch, or ask you a question about your day, or go to bed after you do. The last time they sit in a stroller, a booster chair, or a car seat, or ask your help getting a glass of water, or mispronounce the letter "S", or call you "Mommy."
A few of these, as Howerton writes, are not even the least bit "bittersweet." But most of them are. Assuming, of course, that we even notice them.