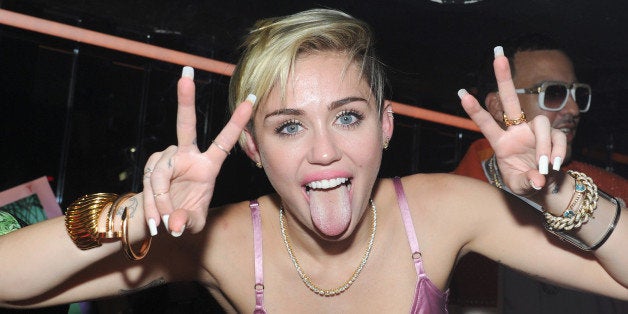 But the "Wrecking Ball" superstar insists that her actions have all been part of a grand scheme -- one that's been thoughtfully orchestrated on her own.
In an interview with Hunger TV, Cyrus revealed that she's very much running her own ship and is not the industry puppet that some make her out to be.

"With magazines, with movies, it's always weird when things are targeted for young people yet they're driven by people that are like 40 years too old. It can't be like this 70-year-old Jewish man that doesn't leave his desk all day, telling me what the clubs want to hear," Cyrus said. "I'm going out, I know what they want to hear. I know when you're in a club, what makes everyone go crazy and when the time is where everyone's like, 'All right, I'm going go get a drink.' I know when people walk off the dance floor and I know what's driving it, so I've got to be the one doing it because they're just not in on what 20-year-olds are doing."
"At first on paper that video sounded insane. No one understood it, and I'm just like, 'Let me film it, and then if it doesn't work out, you never have to trust me again. But if it works out, you have to let me drive this ship. You know I'm on to something. And then they call me and they're like, 'Yo, you're onto something!'"
Hunger TV's Holly Fraser, having conducted the interview with Cyrus, praised the young woman's business skills. "Miley is incredibly savvy," Fraser wrote.
"It's her that comes up with her public image and performances, as she knows it will shock people, so in turn will keep them talking, which will then equate to album sales," Fraser continued. "A clever formula, and one that's obviously working."
Fraser isn't the only person who has lauded Cyrus' business savviness this week.
"She wanted to shake things up a little bit, and mission accomplished," he said of Cyrus' raunchy MTV Video Music Awards performance with Robin Thicke. "She [did] a great deal of preparation and financial investment. All those bears and things she was going out of pocket for to make that stage great. She said she wanted people to be talking."
REAL LIFE. REAL NEWS. REAL VOICES.
Help us tell more of the stories that matter from voices that too often remain unheard.
BEFORE YOU GO
PHOTO GALLERY
Miley Cyrus' Transformation