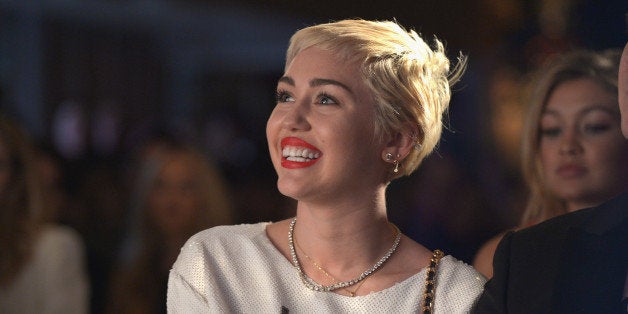 Miley Cyrus, Ariana Grande and Kim Kardashian all deserve kudos for sounding off loudly, clearly and positively about women's sexuality. They each make different points -- all of them great.
Miley Cyrus didn't just pose naked on the cover and inside the pages of the new issue of Paper magazine. She also did something far more astounding. Miley Cyrus spoke out about her own sexuality. She revealed that she is bisexual and even beyond that -- that she is very comfortable with enjoying her own sexuality. "I am literally open to every single thing that is consenting and doesn't involve an animal and everyone is of age. Everything that's legal, I'm down with. Yo, I'm down with any adult -- anyone over the age of 18 who is down to love me." Seriously, how many women, including celebrities, feel empowered enough to be so publicly honest about their sexuality?

Miley Cyrus and Ariana Grande Speak Out In Defense Of Female Sexuality
By opening up, Miley is letting other young women know that it's ok to be sexual -- period. It's ok to enjoy sex -- a message that still, in this modern age, they often don't get. She's also saying that it's ok to be heterosexual, homosexual or bisexual -- it's all great. Miley also goes beyond that and uses her interview to speak out about the need for acceptance for transgenders and she denounces "fundamentalist lawmakers" who treat gay and transgender people like "pariahs." "Those people [shouldn't] get to make our laws," she tells Paper.
I think that all of Miley's messages are super important for young women. Despite living in an era of supposed equality for women, the female sex remains underpaid and under-promoted at work, and is also still faced with discriminatory attitudes about their sexuality. Women are still not supposed to sleep with guys on a first date; they aren't supposed to sleep with too many guys at all, shouldn't dress too sexy or they are called sluts, and if, God forbid, they accidentally get pregnant, aren't supposed to make their own decisions in many states, about whether or not to get an abortion.
Ariana Grande's Twitter Essay -- Speaks Out About Female Sexuality
Men simply are rarely criticized on any of these issues. They are celebrated for their abs and pecs when they go shirtless on magazine covers or in films; they are applauded by their peers if they are "players"; women don't "slut shame" guys if they have slept around, and about the only time they run into clothing criticism is if their pants hang down too low. None of them have been sent home from school for showing their shoulders as student Lauren Wiggins, 17 was for wearing a halter dress -- a maxi, by the way.
Ariana Grande recently wrote a powerful essay about the double standards that young women face and she honed in on the subject of sexuality. "If a woman has a lot of sex (or any sex for that matter)...she's a 'slut.' If a man has sex... HE'S. A STUD. A BOSSSSS. A KING. If a woman even TALKS about sex openly... she is shamed! But if a man talks or RAPS freely about all the women (or more commonly used bitches/hoes" -- how lovely) he's had... he is regaled." Everything that Ariana has written is so true. And I hope that her words are read by all of her 34.6 million Instagram followers, 25 million Facebook fans and 29.5 million Twitter followers, a majority of whom are, no doubt, young women.
First of all, it's so important for women not to think of themselves as "sluts" and "hoes," just because they have normal sexual feelings and want to have sexual relationships. Being sexual is as normal for the female sex as it is for men, and when powerful and public women, like Ariana and Miley, speak out about the discriminatory attitudes that society has against female sexuality, it can help young women feel comfortable with their own. Then, they can join the fight against the double standard in attitudes.
Kim Kardashian's Nude Photoshoots Celebrate The Female Body
More women feeling empowered about their sexuality will also help in the long-run to change outdated views that women should not be sexual creatures. Kim Kardashian, in her own way, deserves kudos for lobbying for the acceptance that female sexuality is normal and positive. Every nude photoshoot that she does celebrates the beauty of the female body. And every time she shares her naked photos, she is saying that there is nothing shameful or slutty about the unadorned female form. The naked female body should be appreciated in every way -- as an art form AND for its empowered sexuality.
Kim is comfortable with her naked body in a way that many women would like to be. When she and Miley share their bodies in photoshoots, they shouldn't be derided for being sexy. Yes, they are sexy, but what's wrong with women being sexy, anyway? Women should be allowed to be sexy without being slammed. So, thank you Ariana, Miley, and Kim for speaking out about all these issues surrounding female sexuality. Your audiences of young women will really benefit from hearing you.
Calling all HuffPost superfans!
Sign up for membership to become a founding member and help shape HuffPost's next chapter