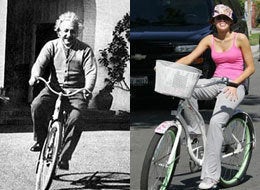 Get with the times. High gas prices are fueling a renewed interest in bicycles. Here to motivate us to hop on the bike-bandwagon are 10 more of . . .
"The Notable and Notorious--On Bicycles!"
Whether influential, intriguing or simply offensive, these celebrities, politicians and pop culture icons have caught my eye for helping the planet, saving money on gas and looking oh so sweet atop the seat. Check them out.
1. Miley Cyrus

Teen Queen, Miley Cyrus, kids around on a Hollywood studio lot.
Photo Courtesy HannahMontana.com
2. George Bush

George Bush joins Chinese cyclists for a tour of the Laoshan Olympic Mountain Bike Coarse in Beijing.
Photo Courtesy AP
3. Brangelina

Angelina Jolie and Brad Pitt took two of their--soon to be six--children for a family bike ride in New Orleans. With Brangelina twins on the way this bike-friendly family will need to hitch another tyke-trailer to their caravan.
Photo Courtesy Thornton/Adao/INFdaily.com Via Just Jared
4. Albert Einstein

"I thought of that while riding my bike," said Einstein, on his theory of relativity .
Photo courtesy California Institute of Technology Archives.
5. Miss Universe Zuleyka Rivera

Miss Universe Zuleyka Rivera, rides her bike to promote Mexico City's campaign to encourage commuters to abandon driving for cycling. In this congested, pollution-choked metropolis of 18 million people, Head of Government of the Federal District, commonly rendered in English as "Mayor of Mexico City," Marcelo Ebrard, is promoting a program that obligates municipal officials to bike to work once per month.
Photo Courtesy Zuleyka Rivera (NTX)
6. Russell Simmons

Russell Simmons was out getting his leisure on while bike riding with a childhood friend in Battery Park. Although nieces Angela and Vanessa Simmons just launched a sneaker line for Run Athletics, Russell seems to be the real athlete of the Simmons stock.
Photo Courtesy C&D
7. Senator Ellie Kinaird

North Carolina Senator Ellie Kinnaird guides her bike toward the ribbon as part of the opening ceremonies for a local bike path.
Photo Courtesy Mariana Fiorentino via carrborocitizen.com
8. Mayor Bill White

Mayor Bill White recently challenged the U.S. Environmental Protection Agency's emissions calculation methods, claiming the EPA significantly underreports pollution from large refineries and chemical plants. White may or may not be on to something, but he can say for sure commuting by bicycle produces 0 emissions.
Photo Courtesy getmovinghouston.com
9. David Clowney

Green Bay Packers David Clowney rides a bike to football training camp in Green Bay, Wisconsin.
Photo Courtesy AP
10. Al Sharpton

The Reverend Al Sharpton rides a bike during the Critical Mass bike ride protest in New York May 30, 2008. Sharpton and other protesters were calling on federal prosecutors to bring civil rights charges against three police officers who had been acquitted of all charges in a Queens New York court in April after firing 50 shots killing Sean Bell, an unarmed black man, on his wedding day.
Photo Courtesy Reuters
Calling all HuffPost superfans!
Sign up for membership to become a founding member and help shape HuffPost's next chapter