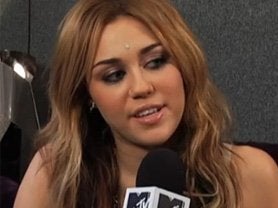 Miley partied with friends, five days after her 18th birthday getting giddily high on a bong, smoking LSD-like Salvia. Now, Salvia may not be an illegal substance in California, as it is in many other states, but that doesn't make her behavior any less self-destructive than if she was snorting cocaine.
Furthermore, Miley knew that she was being videotaped while she smoked and laughed like a hyena. What does that mean?
It means Billy Ray and Tish, that she desperately wants you to know and to act like her parents and tell her to stop, now!
She doesn't really want to be left unsupervised, partying in her house when you both are God knows where! And boy Billy Ray Cyrus has just pretty much fully admitted that he doesn't know what his daughter is up to -- he tweeted at 3:40 pm est Fri, Dec 10th, "Sorry guys. I had no idea. Just saw this stuff for the first time myself. I'm so sad. There is so much beyond my control right now."
"Her parents are apparently too busy arguing with each other to notice their daughter. And now Miley is ingesting something which will alter her reality. She's doing this because her reality is so painful that she wants to escape it," says psychotherapist Dr. Gilda Carle of drgilda.com.
"No matter how old you are -- you are affected deeply by your parents divorce. Many people like Miley aren't able to verbalize their grief so they act out," agrees psychologist Dr. Jeff Gardere, contributor to HealthGuru.com.
The unique problem that Miley has is that she's no ordinary teenager whose "acting out" is only noticed by her family and close friends. She knows that during the past year, every time she has misbehaved -- wearing see-thru tops in public, drinking underage -- she's set off a firestorm of attention in the press.
-Click here to read why experts say this is Miley's desperate call for help!
-Miley's Bong Smoking Tops Year of Bad Behavior! Here, Her Most Shocking Moments!
-Miley Cyrus Caught with Bong Five Days After 18th Birthday! Are You Shocked?
-What is Salvia? Miley Cyrus' Alleged Pipe-Drug Has Effects Similar to LSD!
Support HuffPost
The Stakes Have Never Been Higher
Popular in the Community