Chances are you will never see him on the designers' runway again.
Cyrus shared an image of her younger brother modeling in the show on Instagram, along with an effusive caption congratulating him for making his first ever runway appearance. At the tail end of the message, she noted that although she "STRONGLY" disagrees with the designers' political stances, she supports their efforts to "celebrate young artists [and] give them the platform to shine their light for all to see."
Maybe she's referring to both. Either way, Gabbana called Cyrus' words "ignorant" in an Instagram reply, writing, "For your stupid comment never more work with him."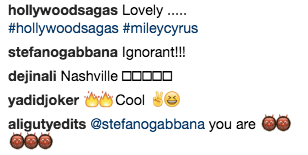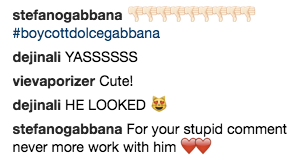 Gabbana added more fuel to the fire with a separate post entirely, implying that Cyrus is the one who brought politics into the situation.
"We are Italian and we don't care about politics and mostly neither about the American one!" he wrote. "We make dresses and if you think about doing politics with a post it's simply ignorant. We don't need your posts or comments so next time please ignore us!!"
Considering Cyrus merely stated she disagrees with the designers and complimented their brand in spite of it, refusing to work with her brother again seems pretty drastic.
As for Braison Cyrus and his burgeoning modeling career, we're going to guess he's not losing much sleep over the whole thing. Miley Cyrus wrote in her Instagram that "it's never been my little brother's dream to be a model as HE is one of the most talented musicians my ears have ever been given the gift of hearing."
BRB, Googling Braison Cyrus for the rest of the day.