It was raining and blowing hard all morning as we sat at anchor in a bay, heavily sheltered between steep, forested shores in the maze of islands that constitute Canada's wondrous Pacific coast. The float-plane we'd been waiting for had been turned back by strong gusts. And so, hours later, Plan B: A boat came alongside, and aboard ours climbed a young woman heavily clad in rain gear who extended her hand and said, "Hi, I'm Miley."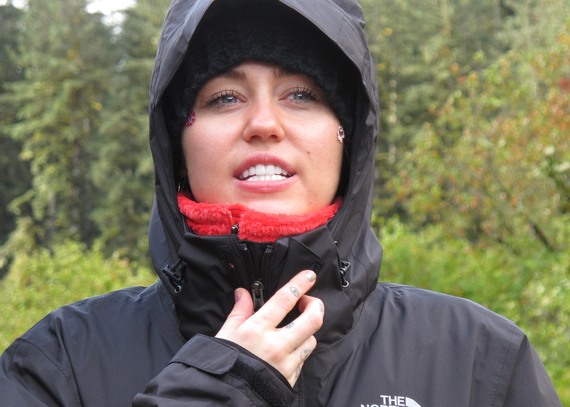 Caption: Hi, I'm Miley. Photo: Carl Safina

Oddly enough, my new book, Beyond Words; What Animals Think And Feel, had brought Miley Cyrus and me together. The Province of British Columbia was planning to kill wolves. I was here hoping to see some of the Province's wolves because I'd written about how killing the adult members of a wolf family (the "alphas" of the "pack") can result in chaos among the survivors. Thus one bullet that kills can bring added suffering to deeply bonded family members who survive, but lose the leadership and support of their parents. Miley had spoken out against the planned kill, as had the Canadian actress Pamela Anderson. Provincial premier Christy Clarke immediately issued a statement criticizing both women's wardrobes and ignoring the issue. (Not an entirely shrewd response, considering that Cyrus has 37 million Facebook followers.)
The catamaran Habitat, owned and skippered by Ian McAllister of the conservation group Pacific Wild, with first mate April Bencze, was our home for several days. Pacific Wild is the most uncompromising environmental group in this region. Also aboard: wolf researchers Mary and John Theberge, who've studied wolves since the early 1960s and specialize in translating the meanings that wolves convey by howling.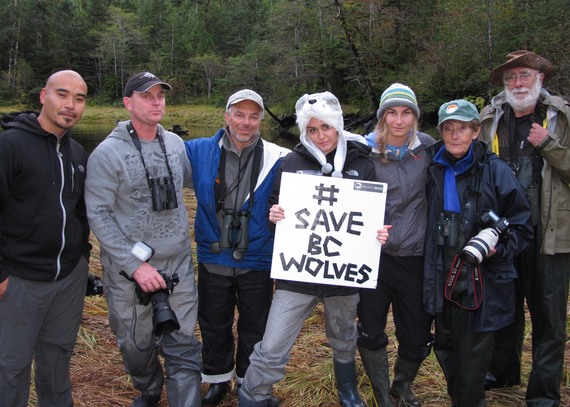 Caption: Doug Neasloss, Ian McAllister, Carl Safina, Miley Cyrus, April Bencze, Mary Theberge and John Theberge
This vast wild coast of British Columbia -- the Great Bear Rainforest -- may be the least ruined temperate coast remaining in the world. A common impression as you move through is of ever-changing yet everlasting water and trees and mountains beyond blue mountains. The rainforest is lush and wild, beautiful and alive. The abundance of grizzly bears and wolves shows that this is a place still functioning as it's supposed to. A remnant of the original world. A magic place, not spoiled.
Oil and gas development, trophy hunting for bears, logging -- all threaten this stunning region. If the Canadian government succeeds in allowing oil and gas pipelines from the east to bring tankers and ports to this coast for shipping oil to China and other destinations, pollution and noise could be devastating to every creature of the sea and shores here. Pacific Wild and the First Nations (as the Native Americans are referred to in Canada) are working against this. They need help.
Exploring, we encountered many wild creatures such as eagles, whales, ravens, sea lions -- we witnessed many pink and chum salmon working upstream toward spawning, passing others who have spawned and died, as is their way. Alive and dead, salmon bring the nutrients of the deep and distant sea, shape-shifted into their own flesh that feeds bears and birds and wolves and many other animals. Salmon runs are down because of overfishing, logging, climate change, and diseases they catch from salmon farms.
The wolves along this coast are remarkably sea-oriented. They eat lots of fish, shellfish, fish eggs, seals, sea lions, and other coastal delicacies. Wolves fear humans; we had no worries being in their territory, even while inspecting a wolf den. Where their tracks were fresh from the day before, we sat watching for the wolves, but they remained out of sight.
Mary and John explained that the Province's plan to kill over a hundred wolves would do nothing to protect dwindling groups of caribou. The caribou's real problems are clear-cut logging, snowmobiles, and highways. Wolves and caribou have existed together for hundreds of thousands of years. Wolves are just scapegoats to avoid dealing with the real problems. Even if the province kills all the wolves -- but doesn't address the reasons for the caribou's drastic declines -- they'll still lose those caribou.
Wolves eluded us, but we encountered bears almost everywhere we looked. The bears ignored us. "Hunting" them is a matter of just shooting them. There is no "hunting" involved. Trophy hunters leave the entire carcass -- a complete waste. I don't understand how anyone could want to come and murder a bear that is living where bears belong, looking for fish, just standing there. Getting a good photo is far more difficult.
The Natives have had enough of trophy hunting, and are asserting their right to shut areas to hunting. It was wonderful to meet some of them. I felt honored to meet Doug Neasloss, a leader among the Kitasoo/Xai'Xais First Nation people. They have declared a ban on trophy hunting and are enforcing it. The Province says they don't have the authority to protect their lands and wildlife; clearly there's been some miscommunication.
The First Nations' young people are proud of who they are, and in love with their home place. In some ways they are typical teens. In some ways, not typical at all. All that land you see, all the wildlife -- it's there because in 10,000 years their people have not ruined it. It's their legacy and, now, their responsibility. They are the promise of the future.
Miley seemed to fall in love with all the sights and creatures we saw, and we all had great fun learning and singing -- loudly -- some Native songs. Several times during our trip, Miley told us it was the best day of her life. For a gal who's been around the world, that's saying something. I've been around myself, to every continent and many coasts. The Great Bear Rainforest of central British Columbia, Canada, might be the best remaining temperate coastal region in the world.
I hope this is just the start of our involvement to help keep this miraculous coast wild!