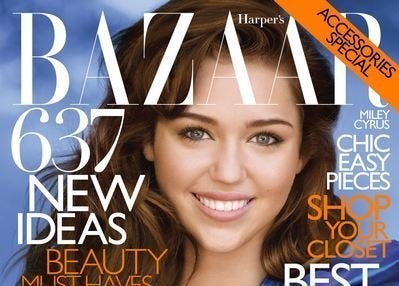 Miley spent the summer in Georgia filming 'The Last Song,' a movie based on a Nicholas Sparks novel, in which she plays Greg Kinnear's renegade daughter. This year she shoots the fourth and final season of 'Hannah Montana.'
On posing in a bed sheet for Vanity Fair:
"Here, my parents are thinking they're seeing a beautiful photograph by a major photographer, and the people of America want to see something dirty in that? It doesn't make sense to us because [my family] doesn't look for negativity. But people don't want to say 'What a great performance' or 'What a great shot." No one wants to look at something like that and see the positive because it doesn't sell a magazine."
"People like controversy because that's what sells. My job is to be a role model, and that's what I want to do, but my job isn't to be a parent. My job isn't to tell your kids how to act or how not to act, because I'm still figuring that out for myself. So to take that away from me is a bit selfish. Your kids are going to make mistakes whether I do or not. That's just life."
On dealing with insecurities:
"I used to ask everyone all day, 'Do I look pretty?' I probably asked that question about as many times as I blink." But in Georgia she finally got over it. "It's not about how because I started feeling beautiful; it's just because I was comfortable. I was so used to the paparazzi and the cameras and the 'What are you wearing?' and having people stare at me."

Read more: http://justjared.buzznet.com/2010/01/06/miley-cyrus-harpers-bazaar-february-2010-cover/#ixzz0brWAgMpz

On her 'Just Breathe' tattoo (as a tribute to a friend who died of cystic fibrosis and grandfathers who died of lung cancer):
"I could never get a meaningless tattoo, but I think that if you're doing something that's important, that's significant in your life, it takes some of the pain away."
Calling all HuffPost superfans!
Sign up for membership to become a founding member and help shape HuffPost's next chapter