According to Ruhlman, after Gunn revealed Cyrus' role, he said, "I was watching 'The Voice,' and I [thought] she's so likable, and her voice is awesome, she's got the best voice. And then I asked Kevin [Feige], 'What do you think about casting Miley Cyrus as the voice of Mainframe?' He was like, 'Well, if you think we can get her.' … and I got her to do it."
The movie is already getting a ton of positive buzz from screenings, and now some breaking news is coming in like a wrecking ball: Miley Cyrus is supposedly secretly in the "Guardians of the Galaxy" sequel.
The tidbit was first tweeted out by Sarah Ruhlman, who was at the Los Angeles press junket for the movie.
In an interview with The Huffington Post, actor Dave Bautista, who plays Drax, seemingly confirmed Cyrus has a role in the film, saying, "I heard that she's uncredited and a voice somewhere." He couldn't remember the details but added, "I know I've heard that."
According to Ruhlman's tweet, Cyrus is the voice of Mainframe. In the comics, Mainframe is an evolved technology that's actually an alternative version of Vision. DenOfGeek explains Mainframe's history:
In the Guardians future, the Vision had evolved to make up the operating system of an entire planet. Calling himself Mainframe, this hero from the past was tasked with protecting the shield of Captain America and later joined the Galactic Guardians.
If Cyrus is Mainframe, it solves a little mystery from the "Guardians of the Galaxy: Vol. 2" press conference on Thursday, when Marvel boss Kevin Feige and director James Gunn reportedly teased the role. As ScreenRant recaps:
Kevin Feige: Have you told anyone who Mainframe is?

James Gunn: I haven't told anyone, yeah. Should we?

James Gunn: Oh I think I actually did. I blew it. I told one person.

Kevin Feige: It'll get out.
Well, now it looks like it's out. And it's a party in the gal-ax-ay!
"Guardians of the Galaxy: Vol. 2" hits theaters May 5.
Before You Go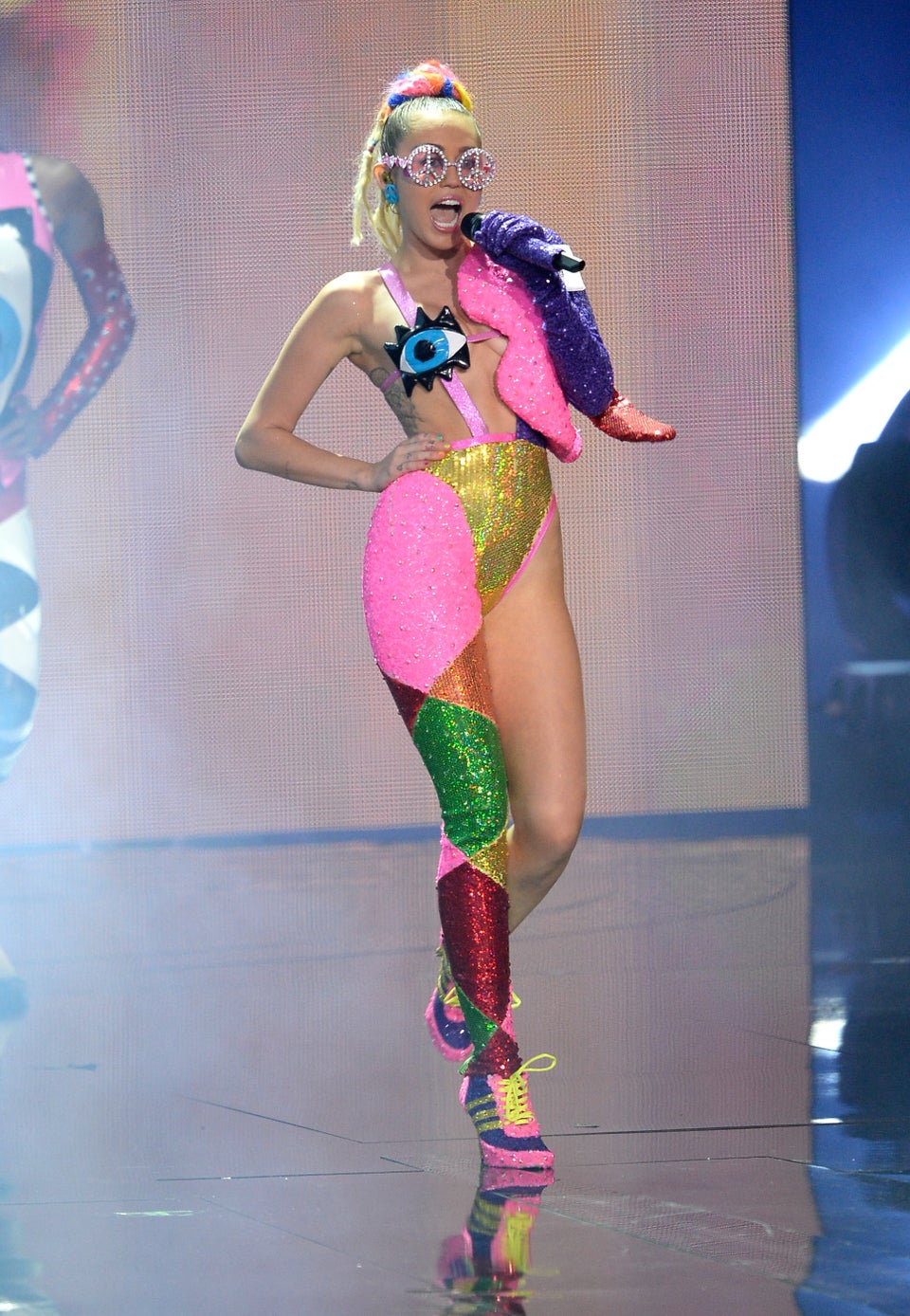 Miley Cyrus' Most Outrageous Outfits
Popular in the Community