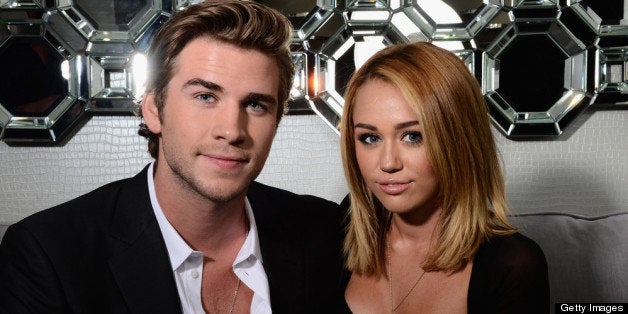 Headlines may claim Miley Cyrus and Liam Hemsworth have split, but a source tells E! News that the breakup rumors are false and the engagement is still on.
"It's been rocky, but they are hanging in there," a source told E! News about the state of Cyrus and Hemsworth's engagement. Not only are the two still set to wed, but they are also still living together at the former Disney star's Los Angeles home.
She did open up about her relationship in the Summer 2013 issue of V Magazine, reasoning that just because her and Hemsworth are not always physically together does not mean they're broken up.
"[I]t's like, I'm not home with my boyfriend all the time," she told V. "We work. Every week it's "Are they broken up? Because we don't see a photo of them." I don't have time to go to Starbucks with my boyfriend every morning. I wish I did, but I don't. I'd rather chill at my house and be there for the time I actually get to spend with him. And then I'm at the studio all day. He gets up to work out at six and I come home at five from the studio."